Oanda is a global forex broker and one among the oldest providers in the market. The broker is headquartered in London and is monitored by the British financial regulator FCA. Oanda also has offices in Singapore, Tokyo, Toronto, Chicago and Zurich.
Currencies or CFDs on indices, commodities or bonds are traded at Oanda. These instruments can either via the in-house trading platform fxTrade or with MetaTrader 4. Unfortunately, Oanda doesn't offer trading in share CFDs so far.
Forex brokers accepting Canadian clients
Pros & Cons of Oanda Canada
Pros
Tight spreads
Good trading platform
Fast processing of withdrawals
Scalping is possible due to tight spreads
No minimum deposit
Cons
Slippage possible
No share CFDs tradable
Not always French support
Oanda trading platform
For the trading platform, Oanda decided on the one hand to use the multiple award-winning trading platform FX-Trade. On the other hand, traders also are given the chance to use MetaTrader 4.
The trading software FX-Trade has been around since 2001. This trading software is particularly suitable for trading foreign currencies and CFDs. It has already won several awards.
One advantage is certainly that additionally to manual trading, fully automated trading is also possible. Additionally , traders can have the benefit of the fact that the broker has continuously expanded and improved its own trading software for over ten years.
Nevertheless, Oanda doesn't want to deny its customers the choice of using MetaTrader 4 as an alternative, which remains popular with traders as cross-broker software. Mobile trading is after all also possible via Oanda, with the mobile app including over 40 indicators.
The corresponding app is offered for both Android and iOS operating systems. Additionally , various analysis tools may be used in mobile trading and real-time rates and premium financial news are available.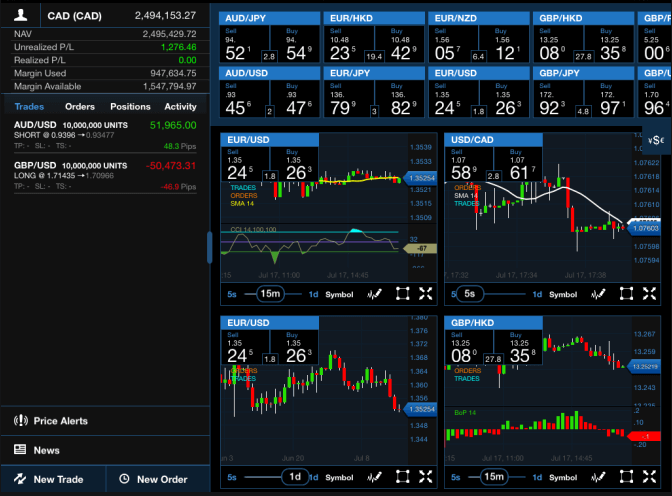 Summary of Oanda's Trading Platforms
fxTrade
fxTrade web platform
MetaTrader 4
Mobile trading apps
Oanda's trade offer and pricing
Oanda's trading offering is especially shaped by the currency pairs that are made available. There are now over 70 currency pairs that the customer can use. Although the broker basically also offers trading in CFDs, the choice is significantly smaller here.
In our test there have been only a bit more than ten different CFDs that the customer can choose from . However, from our point of view, this is not a drawback, because Oanda apparently sees itself primarily as a forex broker.
Regulations
As Oanda Limited, the broker isn't only headquartered in London, but is also regulated by the regulatory agency based there, the Financial Conduct Authority under number 542574. This implies that there's stricter monitoring of the broker, therefore the risk that it's a dubious provider is extremely low.
Since Oanda is also a member of the so-called Financial Services Compensation Scheme, there's another advantage for the customer, namely that funds of up to 50,000 euros British pounds are protected.
In the area of security, however, it should be noted somewhat negatively that both the overall terms and conditions and the important risk information are partly not available in German or haven't been translated particularly professionally.
Payment methods at Oanda
The range of deposit and withdrawal methods that Oanda makes available to its customers is extremely large. Additionally, to the standard payment methods, particularly credit card and bank transfer, the broker also provides PayPal.
Even a check can still be used, but various modern payment systems are also available. The execution of a bank transfer usually takes between three and five working days. When paying with PayPal, it's important to understand that this can only be done in British pounds.
When paying by credit card, please note that there's an upper limit of 10,000 currency units.
Customer service
It's positive that Oanda provides its customers with live support as well as email contact. Additionally, a telphone number can be used to reach out to Oanda from Sunday 1 p.m. to Friday at 6 p.m. This also applies to live chat, which might be a good way to get questions answered relatively quickly.
However, the FAQ area should be criticized, which has a similar problem as the already mentioned terms and conditions and risk information, namely that in some cases an inadequate translation into German was made.
No bonus at Oanda
Many brokers pay their new customers a bonus that's added to the initial deposit. Unfortunately, Oanda isn't one among these providers. We have found in our test that there's no bonus.
The only thing that's done in this section are promotions and trading competitions that Oanda hosts from time to time. In some cases, however, you've got to wait longer for such actions, so new traders particularly who value a calculable and easy bonus will sometimes choose another broker.
Free demo account
In the area of the demo account, Oanda is convincing, as one is not only offered free of charge, but is available indefinitely. This allows Oanda to stand out from some other brokers, where the demo account can be used for a maximum of 14 or, in the best case, 30 days.
Furthermore, the discount reflects either the MetaTrader 4 trading platform or the broker's own FX trader. It has all the important functions so that trading can be trained on a realistic basis.
The trading conditions at Oanda
The trading conditions are also interesting, although Oanda is only partially convincing in this area. For example, we see the maximum leverage of 100: 1 as comparatively low, because numerous brokers are now offering leverage of up to 400: 1 or 500: 1.
Conservative traders and newcomers are unlikely to be bothered by this, as a fairly high level of leverage is always associated with an – undesirable – greater risk.
In the middle, the spreads move on the majors, which start at 1.2 pips.
The broker specifies a micro-lot as the minimum transaction size, i.e. only 1,000 currency units, which in turn is a very customer-friendly value. A total of over 70 currency pairs can be traded with variable spreads.
Educational Tools
Like many forex brokers meanwhile, Oanda also provides a training and information area, which is summarized under the heading Academy.
Here traders can get a lot of information and, for example, take part in webinars. There are also various advice videos and the basics of forex trading as well as technical trading are discussed.
Unfortunately, it is still the case in this section that much of the information is only available in English.
Summary of our Oanda Canada Review
Oanda has been on the market for practically forever and is well regulated. Therefore Canadian traders can assume that they are trading with a reputable broker.
Behind Oanda.com is the Canadian provider OANDA Corporation. The company has been based in Toronto since it was founded. Accordingly, the relevant regulatory authority is the Canadian Securities Administrators (CSA). This authority enjoys a good reputation comparable to that of the US SEC.