Regulation and deposit insurance at FXCC
Behind the broker is FX Central Clearing Ltd. an experienced financial service provider. The forex broker is based in Limassol, Cyprus, and was founded in 2010. The Cypriot financial market regulator, CySEC, regulates and supervises the company. Regulation within the EU has the benefit of enforcing the strict MiFID guidelines.
These mandate, among other things, that customer funds be managed separately from the company's other assets. A membership in the Investors Compensation Fund (ICF), the Cypriot deposit protection fund, is also required by the regulation. This protects customer deposits of up to 20,000 dollars.202
FXCC is a serious and dependable broker, as previous FXCC experiences demonstrate. So far, there has been no evidence of fraud or rip-offs when trading through FXCC.
The FXCC website Review
One of the positive FXCC experiences is that the broker has recently made its website available in Canadian French. The FXCC website is well-organized, with one-click access to all relevant information on companies, regulations, and service offerings. However, some areas, such as terms and conditions and the data protection declaration, remain in English only. The forex broker needs to improve in this area, as the English terms and conditions appear to be a little suspect at first glance.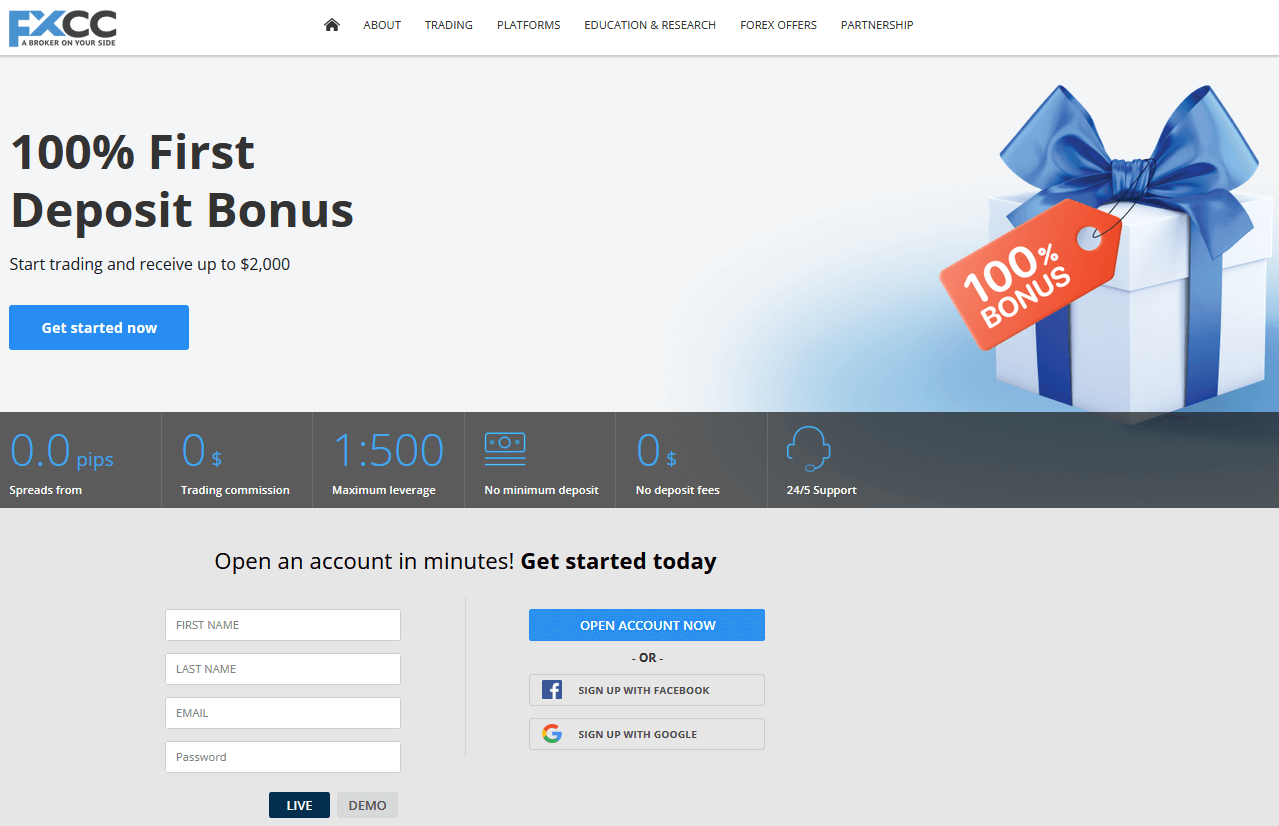 FXCC experience with trading terms
The Cypriot broker was able to earn points in the test thanks to favorable spreads, among other things. At FXCC, these are variable and start at 0.1 pips. Depending on the account model selected, the exact conditions may differ slightly. An average spread of 0.6 pips should be expected when trading the EUR/USD currency pair. The spreads on the equally popular currency pair GBP/USD are only slightly higher, at around 0.8 pips.
A commission is due in addition to the spread, as is customary with ECN brokers. This is 0.75 pips per Forex transaction for the ECN standard account and USD 7.50 for metals. Trading costs are, on the whole, relatively low. FXCC can easily keep up with the competition in this area.
FXCC Leverage Review
In Forex trading, leverage ranges from 1: 1 to 1: 500. Leverage trades allow for high profits with small stakes, but they also come with a higher risk. It's also a plus that the minimum deposit is only 100 dollars. In order to get started, most ECN brokers require a larger deposit. Even beginners can profit from ECN trading thanks to FXCC.
Let's look at the other trading conditions once more. The minimum transaction volume is 0.01 lot, which is standard. For all trading accounts, the stop-out rate is 50%. Five decimal places are used in the pricing.
Asset Index is still manageable
FXCC was unable to pass the test due to its large number of underlyings. The trading offer is limited to 28 currency pairs with the Mini and Standard account models. Although the most important currencies are represented, other forex brokers, such as FxPro or Iron FX, have a larger selection. Trading in the raw materials gold and silver is available in addition to foreign exchange. The ECN-Profi account supports 56 currency pairs. Due to the high minimum deposit of 100,000 dollars, however, this account should only be considered by a small number of traders.
FXCC MetaTrader 4 and Webtrader Trading Platforms
FXCC provides the world's most popular trading platform for Forex trading, MetaTrader 4. Expert Advisors, such as Keltner Pro, can be used to completely automate trading. The trading robots follow a strategy with a single-minded focus. Positions can be customized to fit any size or budget. You use a trailing stop to follow the investments at the desired interval and, if the user has set it up correctly, you can also adjust it to changes in volatility. Despite the numerous functions, even novices can navigate the system fairly quickly.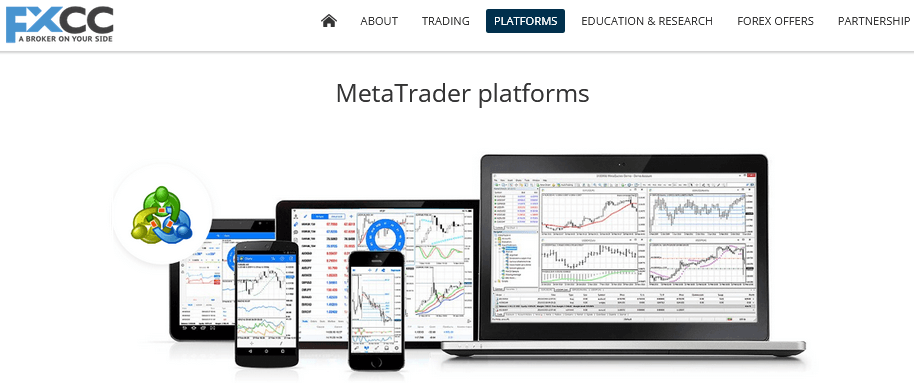 The FXCC web trader is a simpler trading platform for those who prefer it. This has the advantage of being accessible directly from the browser. As a result, there is no need to download the software. Traders can access their accounts from any computer with an internet connection.
Open a trading account with FXCC in a few moments
Opening a trading account with FXCC is simple and takes only a few minutes, according to our experience. All you have to do is fill out a registration form, just like with any other Forex broker. For legitimation, a copy of the identity card or passport, as well as a current invoice from the energy provider, are required. I've put together a small step-by-step guide to help you get started at FXCC.
Step 1: On the home page, click the "Open my account" button. You can log into your trader profile or the web trader at the top right if you already have an FXCC trading account.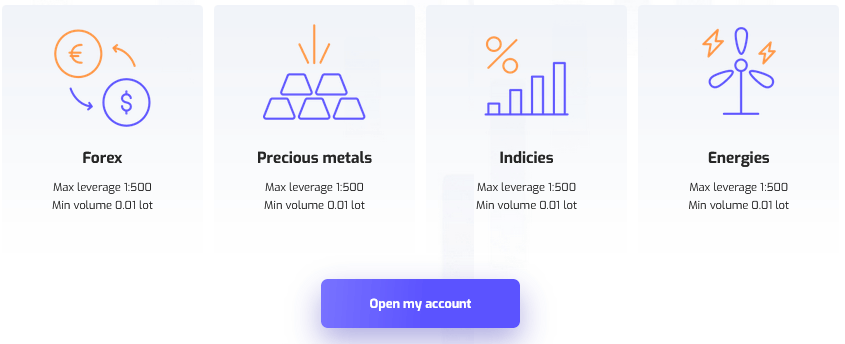 Step 2: The next step is to use the online form. To begin, a slider determines whether a live or demo account should be created. Then type your name, email address, and phone number in the boxes provided. Set the account currency as well. Accounts can also be managed in USD and GBP, in addition to the USD. It's worth noting that this option can't be changed later. The trader will be guided step by step through the registration form by clicking "Continue."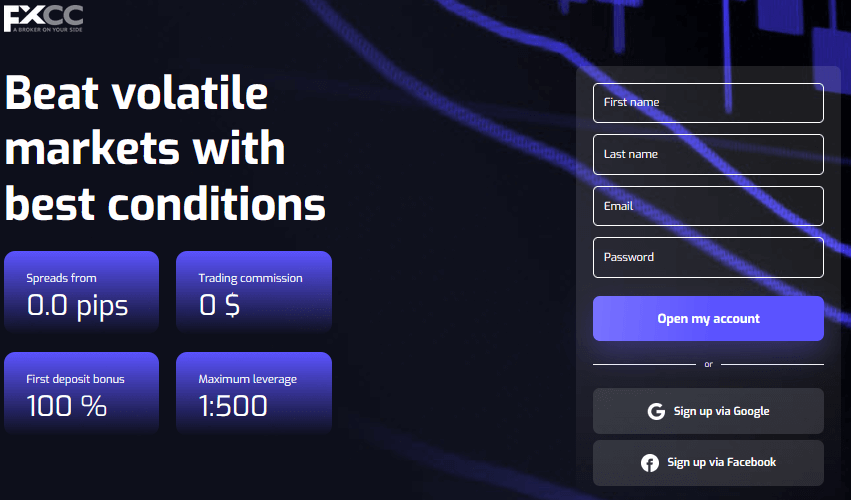 Step 3: After you've completed the online form, you'll receive an email confirming your account opening. A link to finally activate the trading account is also included in the email. After that, you can make your first deposit.
FXCC Payment Options
Customers can only deposit using a credit card or a bank transfer with some forex brokers. FXCC, on the other hand, is better positioned in this area. Skrill and Neteller's e-wallets are also accepted. Payments can also be made in real time using online banking's instant transfer feature. Paysafecard prepaid cards are also accepted for anonymous deposits.
The fact that deposits are generally free of charge has also been a positive FCXX experience. Within an hour, credit cards, instant transfers, and e-wallets are credited. Traditional bank transfers can take anywhere from two to five days to complete. The minimum deposit is determined by the account model chosen. A deposit of 100 dollars is required to open an ECN-Mini account. $500 is required for the ECN standard account, and $100,000 is required for the ECN professional account. Withdrawals are also free of charge up to a limit of 50 dollars. In most cases, the same payment method is used for both the deposit and the withdrawal.
Start with a free demo account
You can open a free demo account with FXCC if you want to try out the services without risking any money. As a result, all trading platforms can be thoroughly tested. Experienced traders can test new strategies ahead of time without putting their money at risk. The FXCC experience demonstrates that the demo account provides a realistic trading environment. It's also reassuring to know that the test account can be used indefinitely.
Good customer service
FXCC support is available through more call centers in more than 50 countries. Fortunately, there is also a Canadian customer service that can be contacted by phone. Alternatively, traders can request a callback or contact support via the fast live chat. You can of course also contact us by email. The support staff at FXCC, in our experience, is extremely friendly and knowledgeable. All questions are answered completely and accurately. If you send an email to customer service, you will usually receive a response within 24 hours.
It's also worth mentioning the free SMS notification service. The FXCC SMS information service is automatically subscribed by all live accounts. Each time a deposit or withdrawal is confirmed, as well as news and market updates, an SMS is sent. Traders also get security information when they change their MT4 master password.
One of the disadvantages of the FXCC exam is the training courses. This is due to the fact that there are currently none. Unfortunately, unlike other brokers, FXCC does not offer any free PDFs or training videos. There are no webinars either. This is a serious flaw that needs to be addressed as soon as possible.
Conclusion: This is The Best New Canadian Broker
According to the ECN model, the FXCC broker makes Forex trading simple and secure for Canadian traders. The transactions are completed in a timely and reliable manner. The broker can also score points with favorable conditions and narrow spreads. In terms of retail, there is still room for improvement. This is very manageable with 28 currency pairs. The customer service is great, but there are deductions for the lack of training opportunities.