FP Markets is an Australian broker regulated by the ASIC. The broker accepts clients from Canada and all over the world as long as CFD and Forex trading is not prohibited. FP Markets offers five different accounts and trading via MT4, MT5 and IRESS. The broker offers STP and ECN trading for a relatively low minimum deposit.
The facts about FP Markets at a glance
Five different account types
Large trade offer
Regulation by the ASIC
Five different account models
Bank transfer, Skrill, Neteller, credit card
Maximum leverage of 5000: 1
Trading offer with around 10,000 base values
STP or ECN broker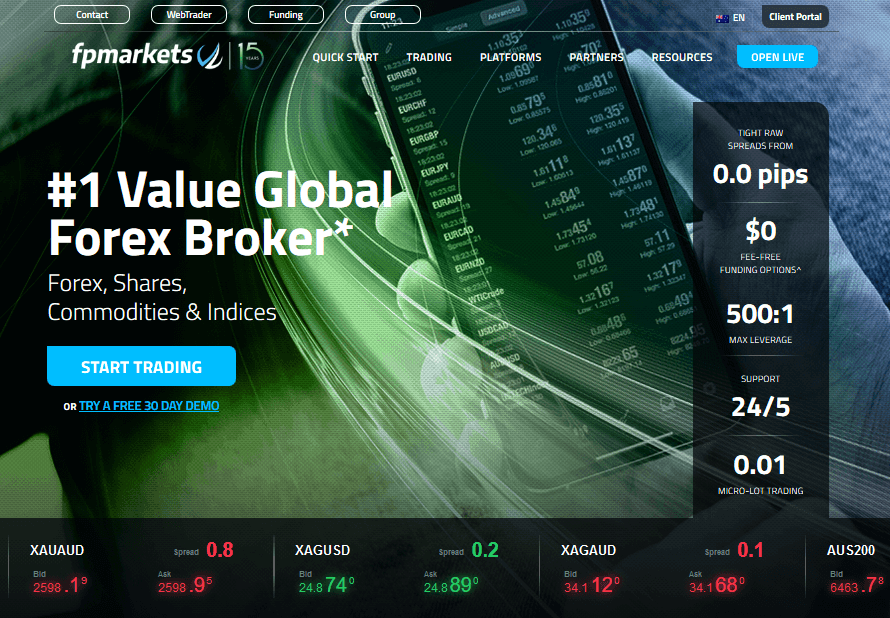 The FP Markets trading offers
According to its own information, FP Markets offers the likelihood of trading around 10,000 underlyings with one leverage. The extent to which FP Markets offers CFD and Forex trading also depends on the account model that a trader chooses. Of course, a relative quantity of the underlyings that the broker offers come from securities trading.
But the broker also has a more than solid offer in other asset classes. With around 50 different currency pairs, FP Markets naturally also has some currency pairs on offer that transcend the majors. Due to their origin, traders can mainly find some currency pairs from Asia and Oceania, which they can hardly trade with American brokers.
FP Markets also offers the choice to trade Bitcoin. The selection of cryptocurrencies isn't excessive, but it'll be quite sufficient for many traders in Canada.
FP Markets Trading platforms
For trading, the FP Markets Broker offers a total of three different trading platforms, which are characterized by their top quality. On the one hand, the broker relies on two globally known trading platforms, which are supplemented by a third:
MetaTrader 4
MetaTrader 5
IRESS
MetaTrader 4 and MetaTrader are the foremost popular trading platforms for private customers. The two trading platforms are complemented by IRESS, another trading software that would be a good alternative for anyone who isn't satisfied with the MetaQuotes software.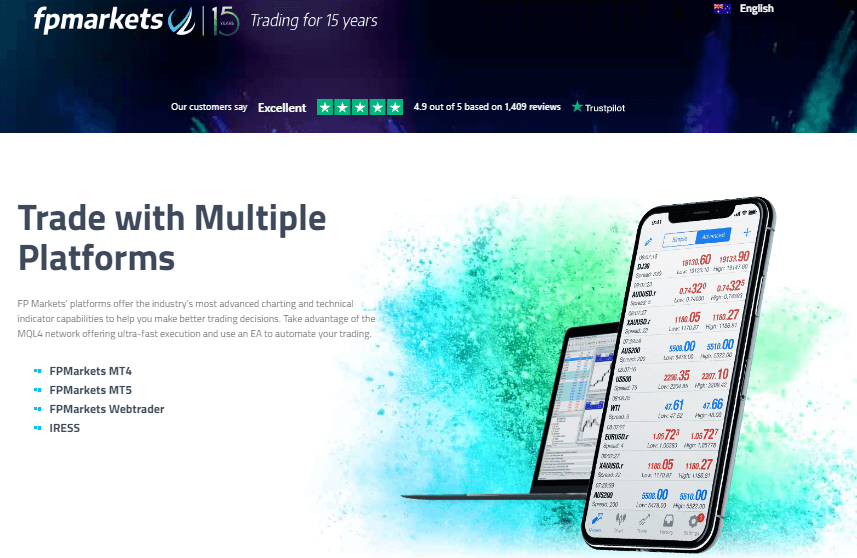 Mobile trading possible with all platforms
Mobile trading is extremely popular with most CFD and Forex traders. For many trading strategies it is sensible to permanently monitor the open positions and to be able to close them at any time. Additionally, many traders would like to have the chance to inform themselves in between or even to be able to trade.
When our FP Markets rating came about, we in fact didn't assume that the broker would offer its own app. even though mobile trading is now standard, most brokers don't have their own mobile trading platform, but rather use people who they also offer.
Here FP Markets has basically shown a good hand. MetaTrader 4 and MetaTrader 5 are in fact also available as trading apps. The apps also are very popular and are the first choice for several traders as well as in the browser or desktop version.
Account models at the FP Markets Canada
If you would like to trade CFD and Forex at FP Markets, you've got to choose between different account models. The broker offers two different account models for currency traders and three variants for CFD traders.
The choices are:
CFD professional, platinum or Premium
Forex Standard
Forex ECN RAW
A deposit of a minimum of $100 is required for Forex trading. in the forex standard account, the broker offers STP execution, within the ECN account, however, trades are forwarded to the interbank market. There are over 50 currency pairs available in both account models, also as metals, indices and commodities. Accordingly, these accounts are ideal for beginners. you'll deposit a little and still trade many underlyings.
CFD trading, on the other hand, is merely possible from $1,000. Traders then only get access to the professional account. This account is also the first choice for several beginners and private customers because it's difficult to satisfy the requirements for the other account models. If you do not want to invest a five-digit euro amount, you will not meet the minimum requirements for the other accounts:
For the platinum account $25,000 are necessary, for the premium account even $50,000. The fees are linked to the account models and are quite different. In the premium account, there are no fees for real-time rates and platform use. Traders always have the choice of booking these separately. The other essential features don't differ, however. The market execution and service offer the same quality no matter the account model.
Fees and commissions
The costs that are incurred in trading are always essential for the success of traders. The FP Markets fees are considerably based on the account model that the trader selects. As a rule of thumb, traders can assume that if they deposit tons of money, they'll have to pay a lower percentage of trading costs.
The spreads in the standard account start at one pip. in the ECN RAW account, however, the broker offers the market spreads of the interbank market and charges a commission of 3.5 dollars per 100,000 dollars traded, per half-turn. The broker is certainly not one of the cheapest forex providers, but the prices for forex trading are still within a good framework.
Demo account
Beginners who don't yet know whether Forex and CFD trading is really a trading method that's suitable for them have the chance to open a demo account with FP Markets. Traders receive an account with virtual credit that they can use for trading. it's in fact not withdrawable, but "play money" that remains in the account. Using this can be highly recommended, especially for beginners. you often underestimate the leverage effect and lose plenty of money quickly.
FP Markets demo accounts are possible with three different trading platforms:
MetaTrader 4
MetaTrader 5
IRESS
Traders must, however, choose a variant when applying for the demo account.
To apply for a demo account, traders at FP Markets have to reveal a relatively large amount of different personal data. Including not only your name and country, but also your phone and email address. you need to also comply with receive marketing material using the contact details provided. this is common and might be revoked afterwards, but the FP Markets demo account isn't suitable for traders who value their privacy.
CFD trading is also differently expensive depending on the account model. Trading in the professional account costs a minimum of 10 USD, then 0.1% of the trading amount. In the platinum account it's a minimum of 9 USD and 0.09% and in the premium account there's no minimum and traders pay 0.8% of the trading amount. How high the percentage is, however, also depends on the underlying asset that the trader wants to trade. So, there's a minimum fee.
The financing costs also rely on the account model. this is often based on the FP Market base rate. It's increased by 4 percent within the professional account, by 3.5 percent within the platinum account and by 3 percent within the premium account. Again, FP Markets isn't necessarily cheap. Additionally, the FP Market base rate isn't necessarily transparent, as there's no information on how it's actually calculated.
Deposit and withdrawal methods
With a broker headquartered in Australia and without a branch within the EU, it's in fact anything but easy to provide uncomplicated options for traders from the EU to deposit and withdraw money. So, it's not surprising that FP Markets also uses alternatives to standard transfers. If you transfer from Germany, you've got to expect a further fee of 12.5 dollard.
In terms of the broker's fees, credit card payment is really the most cost effective method of payment transactions. Traders can cash out in this way without additional fees. Otherwise the following fees apply:
Wire transfer: 25 AUD
Neteller 2% up to $ 30
Skrill 1%
The payout period for all payment methods is one working day.
Before traders can withdraw, they have to authenticate. This also partially applies to deposits. This is not least in the interests of the trader. On the one hand, it's harder to resolve conflicts later, and on the other hand, international payment transactions are in fact also monitored. It's usually sufficient to submit a copy of your ID copy and a utility bill to verify your identity in order that the effort is kept within limits.
Educational offers with various media
FP Markets relies on various training materials, which, however, are generally on a really easy level and are hardly suitable for helping advanced traders. The risk here is that beginners particularly think so quickly that after working through the educational materials they will know enough and are ready for trading. In fact, it takes a couple of more hours of training before beginners have more chances of trading successfully.
Traders can choose between:
Videos
glossary
eBooks
Tutorials
The educational material is additionally made available in cooperation with MetaQuotes, in order that some traders might already know them from other forex brokers. However, FP Markets also has its own offerings such as eBooks.
FP Markets Canada: FAQs
Where FPMarkets broker headquartered?
fpmarkets is headquartered in Sydney, Australia.
Is fpmarkets a regulated broker?
Yes, fpmarkets is regulated by the ASIC.
Can I test trading at fpmarkets in advance?
Yes, fpmarkets provides a free demo account.
Which trading products does fpmarkets offer?
At fpmarkets you'll trade Forex and CFDs, among other things.
Conclusion: FP Markets Canada
For customers from Canad, FP Markets has the decisive disadvantage that the broker is licensed outside America and is also headquartered in Australia. This implies that in the event of a conflict, Australian law always applies and therefore the broker must only adhere to the ASIC requirements. Accordingly, there are also differences in the lever.
For everyone else, however, there aren't numerous arguments for choosing FP Markets over another broker. MT4 and MT5 are the standard, IRESS is just too expensive at 55 AUD per month.