Top Canadian Forex Brokers
Like many platforms specializing in trading, the Fortrade Exchange offers beginners valuable information, seminars and information free of charge. There are trading courses for beginners, trading videos and trading courses for advanced learners on the page in the "Fortrades Online Academy".
Interested traders may also find out more about FX trading and CFDs in various eBooks. On top of that there's a set of day trading strategies to get to know and imitate also as a lexicon of trading terms from A to Z.
What is Fortrade?
You can gain experience in Fortrade trading stocks, forex, commodities, indices and ETFs. Unfortunately, Fortrade doesn't offer cryptocurrencies. Nevertheless, the wide selection of products stands out positively here. In Fortrade forex trading, the "majors" under the currency pairs are available.
On the commodities side, popular assets such as gold or oil are freely tradable on the broker platform; on the stocks side, the securities of major international companies such as Facebook, Google or Apple.

Fortrade was founded in 2013 and focuses on online trading as well as investing in the international capital markets. The forex broker enables private investors and institutional customers to trade over 300 currencies as well as commodity, index and share CFDs and other derivatives via a modern online trading platform.
Fortrade pros and cons
Pros
Fortrade Review – The Offer
Here you'll find out everything about the financial products offered at Fortrade. Our Fortrade test shows that Fortrade offers a good range of products. However, we are missing cryptocurrency trading at Fortrade – the future technologies shouldn't be missing in any portfolio.
Forex Trading
Forex trading is trading currency pairs from all over the world. The FX market is by far the biggest financial market in the world. lot of organizations and private investors worldwide trade here daily in order to capitalize on the high volatility and liquidity of this market. Also, in Fortrade Forex trading you'll opt to go "Long" (buy) or "Short" (sell) and benefit from falling as well as inflation.
Fortrade Forex trading has numerous currency pairs on offer, including EUR / USD, GBP / USD or USD / JPY. you'll find an entire list of all currency pairs offered for trading here below our box.
CFD trading
The Fortrade Exchange specializes in trading contracts for difference, referred to as CFDs. The Fortrade CFDs enable trading with a leverage that increases your chances of winning – at a similar time, however, your risk of loss increases. With Fortrade CFDs, you do not buy the assets directly, but rely on price changes. If you'll predict this correctly, you'll achieve high returns in CFD trading – due to the "shorting" option, you'll do that even when prices are literally falling.
CFDs are complex instruments and carry a high level of risk. Due to the leverage, investors can lose money very quickly here. 84% of retail investor accounts lose money when trading CFDs with this provider. If you would like to get into CFD trading, you should first consider whether you actually understand how CFDs work and whether you'll afford to take the high risk of losing your money.
Shares
Share certificates, like stocks, indicate an interest in a company. With a share purchase, investors acquire rights to dividends and, depending on the kind of security, other privileges. However, the shares aren't bought at Fortrade, but are available for trading with CFDs.
So, you speculate here about share price developments on the stock exchanges and don't acquire any shares in the company and thus no claims to dividends. At Fortrade you'll trade variety of different stocks, including the stocks of commercial giants such as Google, Apple and Facebook.
Indices
With a Fortrade registration you also get access to trades with indices in your account. Index CFDs offer investors an opportunity to capitalize on leading industry sectors or the market as a whole, instead of simply speculating on one stock. Fortrade has quite a dozen stock indices from around the world, including the USA 500, Europe 50, UK 100, Germany 30, and France 40.
Raw materials
Commodities are traditionally a well-liked form of investment. Whether metals such as silver, energy sources such as oil, or food such as soy or grain: you'll trade variety of raw materials. Commodities are often bought or traded directly. Investments in futures are an investment option for commodities. On the commodity exchange (or cash market), commodities are traded in a similar way to derivatives.
Precious metals, energy products and agricultural holdings – these are the main categories of commodities that may be traded on the Fortrade Exchange with CFD derivatives. Gold, silver and other precious metals, crude oil, gas and other energy products as well as cotton and grain.
ETFs
At Fortrade, you are able to buy buy ETFs on a number of the best stock indices on the market. Like indices, ETFs reflect the performance of an index or an underlying sector. The Fortrade ETF portfolio currently includes ProShares UltraPro Short QQQ (ticker: SQQQ) and ProShares UltraPro Long QQQ (ticker: TQQQ). Both ETFs follow the NASDAQ-100.
Account Opening
From registration to investment: we will introduce you to trading with Fortrade step by step.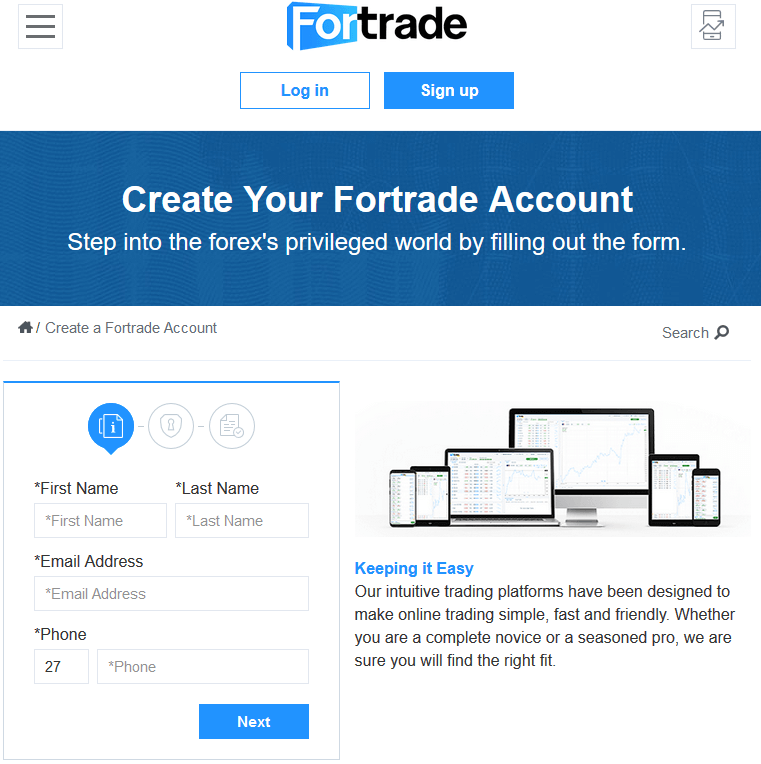 Step 1: the registration
To start trading on Fortrade, you should register your own account. Once you register, you'll be asked some few personal information, such as your name or an e-mail, as usual. You also have to provide a phone number. This is followed by questions about your assets, your level of experience and knowledge about the risks related to trading on Fortrade.
Fill in all fields marked with an asterisk (*) truthfully.
Step 2: the deposit
For the deposit you give your account details, the number of the credit card or the required data with other payment service providers. you've got to transfer a minimum of 100 dollars to your account.
After you have activated your trading account, you would like to transfer funds to your profile in order to begin trading. The minimum amount here is $ 100 – that's roughly CAD 130,62. choose one of the various payment methods and make your transfer.
Depending on the payment method you select, it'll take a short while before you can access your transfer on your account.
Step 3: the trade
For trading, you choose your preferred asset and specify the amount. As soon as the order has been confirmed, the position will be found in your own customer account.
If the money is already on your account, you'll start trading. Switch to the trading area. Select what you would like to trade with and click on either "buy" or "sell" to open a position. Your first trade is already executed.
Please familiarize yourself with the risks and functions of CFD trading on your own. Trading in Contracts for Difference may result in the total loss of your investment. Our instructions expressly don't represent a recommendation for trading CFDs. they're only intended as a guide.
Fortrade Fees & Pricing
On the Fortrade fee side, the broker promises to be particularly cheap. Fortrades fee policy is: completely free of charge. This is applicable to account management, but not to trading. Like most brokers, Fortrade takes fees from the spread. the amount of your Fortrade fees depends on the difference between the buying and price of an instrument.
The minimum spreads for trading EUR / USD for Fortrade Fees are around 1.0 pips per order. That is not insanely expensive, but also not cheaper than with other brokers. Commission fees are only charged for share CFDs. The rollover fee for long positions on EUR / USD is US $ 6.91 and for short positions it's US $ 3.02.
The broker penalizes inactive traders after 180 days of inactivity with an administration fee. The amount of which depends on the currency area of the investor. For the US it's $ 10.
Payment methods
In order to be able to start trading immediately after your Fortrade registration and your first Fortrade login, you initially have to transfer start-up capital. With this broker, $100 is enough. That's even less than our comparison test winner BlackBull Markets, which we still recommend as a Fortrade alternative.
For your transfer you should to choose one of the various deposit methods available here. Unfortunately, PayPal isn't among the choices for your transfer. The Fortrade broker accepts all major credit and debit cards, bank transfers, and the payment service providers Neteller and Skrill.
Surprisingly, Fortrade accepts Bitcoin as a form of payment, although you can't trade Bitcoin on Fortrade.
Regulation & security
When choosing a good broker broker, security should play a serious role. It is important that you are protected against as many eventualities as possible. So how does Fortrade put a stop to fraud?
The Fortrade Exchange is regularly audited by a financial regulator and thus offers its users a solid level of security. The Fortrade Exchange is registered and authorized by the Financial Conduct Authority of Great Britain (FCA).
Investors' deposits are protected against insolvency via the FSCS compensation program (Financial Services Compensation Scheme); the maximum amount of compensation per person and company is about at 50,000 British pounds. Typically, the FSCS program protects small businesses also as individual investors.
All transactions at Fortrade are carried out via an SSL-encrypted connection to stop unlawful access or other impairment of customer data. Fortrade also checks cases of fraud or investigates whether or not they are taking place on the platform.
In our opinion, given the information available here, becoming a victim of fraud with Fortrade is extremely unlikely.
Conclusion about Fortrade Broker
The Foretrade Broker can convince with its rich product range, easily accessible service and also the Foretrade app. We are very impressed by the demo account. Foretrade broker fees are cheaper than other popular brokers such as Oanda and forex.com. What we are missing on this broker is, above all, the option to trade Bitcoin and other cryptocurrencies with Fortrade. Perhaps the broker will add more here soon.
The bottom line is that Fortrade is a great choice for Forex and CFD trading.