eToro is The company over two million customers all over the world. That is an impressive figure in the forex broker sector.The online trading broker is headquartered in Cyprus and was founded in 2007.
The broker has been regulated by the financial supervisory authority CySEC for some time. It became known particularly through social trading with the eToro CopyTrader.
eToro now offers one of the world's largest social investment networks. Everything you would like to know about it including trading experiences from Canadian traders can be read in our review.
Pros & Cons for eToro Canada
Pros
Easy to understand even for beginners
Simple trading platform
Social trading possible
Many tradable markets
Low minimum deposit of $50
Cons
Scalping can be difficult due to high spreads
Spreads on currencies are relatively high
Trading platforms
eToro Canada broker offers its customers a well-functioning and easy-to-use trading platform. The trading platform is offered in more than 20 languages, including English and French. It's worth mentioning that traders can adapt the look and feel of the trading platform to their individual needs.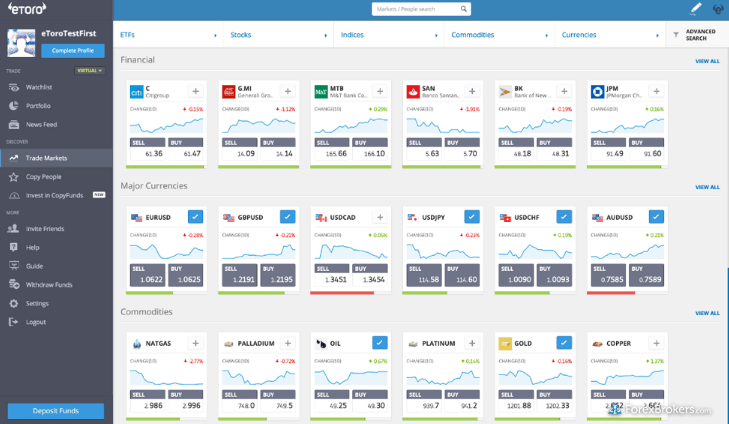 Various currency pairs such as as stocks, indices and commodities can be traded via the platform via the CFD area. A special highlight on the eToro trading platform is that an investment network may be used, which is additionally referred to as social trading. We'll then offer you further information on this point under the heading "Special features".
Trade offer at eToro
At this time, we'd like to take a better look at the broker's trading offer. Currently there are the following kinds of underlying assets that customers can select from in the forex and CFD area:
Shares
ETFs
raw materials
The range of CFDs in the stocks section is particularly diverse, because there are over 1,000 underlying assets that the trader can choose. The options for the opposite base values are significantly smaller, which is, however, in the nature of things.
Customers can currently choose from almost 60 ETFs, almost 50 currency pairs, a bit more than ten indices, six commodities and ten crypto currencies. It should be mentioned, however, that eToro doesn't have any physical shares, but can always trade CFDs on the underlying stock value.
What's particularly interesting about the trading offer is that eToro joins the group of CFD brokers who have decided to create speculation on the price development of crypto currencies accessible to their customers.
Traders can trade the following crypto CFDs via the broker eToto Canada:
Ethereum
Litecoin
EOS
NEO
Ethereum Classic
Dash
Ripple
Stellar Lumens
Cardano
Special offer for digital currencies: CopyFunds
Not only is eToro one amongst the brokers who also enable trading in crypto currencies such as Bitcoin or Ethereum via the corresponding crypto CFDs. Additionally, the broker also offers a special feature in this segment, namely the so-called CopyFunds. This copy fund enables you to distribute money to different crypto currencies and thus actually takes on the function of a fund.
eToro CopyTrader
First of all, eToro could be a classic forex broker, therefore the first trading variant can in fact be found in trading forex pairs.
Customers can currently trade more than 20 different currency pairs, although we believe the selection should be a bit wider. In addition to forex trading, traders may also trade CFDs via eToro, for instance on stocks, commodities and indices. Trading in CFDs takes place via a similar trading platform that foreign currencies can be traded on.
eToro CopyTrader as an extra function
An interesting additional function that can be utilized in addition to the trading variants is the so-called CopyTrader.
This enables customers to copy the orders of professional traders and, in the best case scenario, to take advantage of the experience of the professionals. We put the eToro CopyTrader to a test for you with real money to examine how good or bad the CopyTrader function at eToro really is.
Forex Broker Regulations
The forex broker eToro, founded in 2007, has chosen to have its legal and tax headquarters in Cyprus. For an extended time, the broker has been regulated from there, which is administered by CySEC. As a result, among other things, the deposits of traders are protected by the deposit insurance applicable in the European Union against losses of up to a maximum of EUR 20,000, which could arise, for instance, from the insolvency of the broker.
Customer service
EToro's customer service is extremely easy to reach via email, telephone and live chat. The staff are friendly and answer queries quickly and properly. The big advantage of eToro is that beginners particularly have the chance to get answers to questions there via the community. Under certain circumstances, this may even be more useful, so the trader doesn't necessarily have to contact customer service with every problem and question. Nevertheless, this is not a problem for the staff, especially since they can be reached very easily in various ways.
Demo account
The demo account that eToro makes available to its customers is certainly one of best ones in the broker comparison. The main reason is that the demo account with a demo capital of 100,000 USD on the one hand represents the real trading platform 1: 1 and on the opposite hand it may be used without a time limit. Beginners particularly have the benefit of this regulation, because it ensures that they can calmly occupy themselves with the trading platform and, if necessary, use numerous procedures and techniques. Additionally, due to its non-existent time limit, the demo account can in fact also be used during real trading, e.g. to check strategies.
eToro learning and training
eToro is one of the forex brokers who not only provide the standard trading offer, but also endeavor teach their customers in forex trading and CFD trading.
The so-called "Trading Academy" is offered for this purpose. Here traders have the chance to take part in webinars, for instance, and useful tips about foreign exchange trading are also given. Interactive trading courses and professional tools may also be used, so the trader is given a large range of information.
However, eToro has opted for this variant so that new customers can receive a bonus of up 10%. This depends thoroughly on the deposit. In our experience, it can also make sense to contact customer service if you would like to make a particularly high initial deposit. in this case, the broker seems to be quite ready to increase the bonus a bit. Additionally, to the regular bonus, there's a credit of 100 dollars if the trader wins another customer for the broker in the course of the so-called referral.
eToro Payouts
In addition to the standard payment methods, eToro offers a couple of other options for financing your account.
Payments to the trading account are often made by bank transfer, credit card and PayPal. according to support, payouts should still be processed on the day of the application, so a payout of the amount, depending on the chosen payout method such as credit card or bank transfer, is back on the customer's account within 7 working days.
Conclusion
As you can see from the numerous mixed reviews of eToro, many Canadian traders have had positive experiences with eToro. There is also a substantial number of negative evaluations in which eToro is even cheatingis accused. Since eToro is aimed more at beginners than experienced traders, one can assume that the reviews will definitely include some traders who blame the broker for their trading failure.
We have tested trading with eToro live account. We did not find any platform failures or massive slippage. The platform is comparatively simple, which is probably due to the fact that the provider is aimed more at beginners in trading. Experienced and professional investors will definitely miss a number of the features of a more professional trading platform.