Features of EightCap
Tight spreads from 0.8 pips on the standard account
Demo account free of charge and usable for 30 days
Low minimum deposit of 100 euros, GBP or USD
Suitable types of account for both beginners and professionals
8Cap offers a maximum leverage of 500: 1
Top Recommended Forex Brokers in Canada
License and Regulation: Licensed by Australian Authority
An indication of the seriousness of a broker is always the regulation by an independent authority. Numerous brokers based in Europe are licensed by the regulatory agency of an EU member state, which implies that they automatically trade CFDs, Forex and other financial market products in all other member states of the European Union are allowed to offer.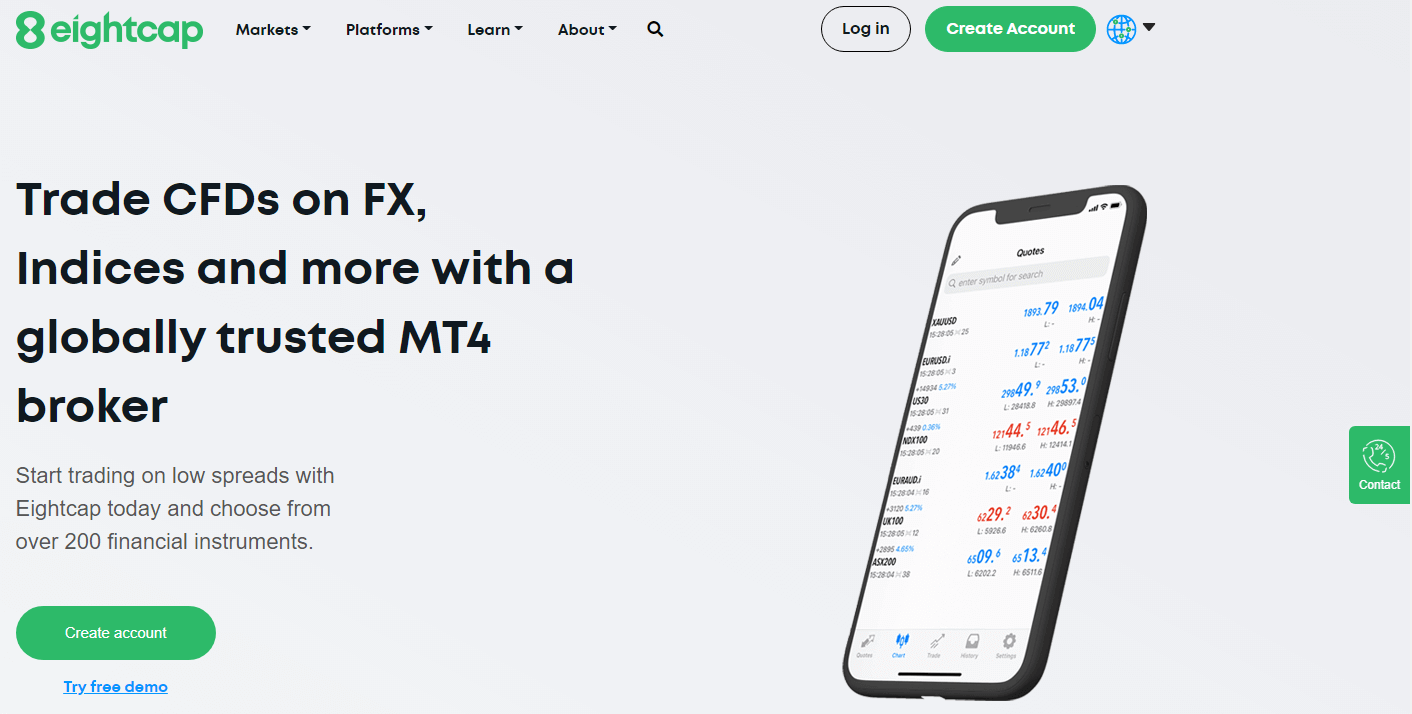 Trading offers: Large selection, especially in the Forex area
Researching about trading instruments gives online investors information about which underlying assets they can trade with the online broker. According to our EightCap findings and reviews, the broker offers the largest selection in the Forex area. This offers investors access to the world's most liquid trading market, the exchange market.
Tradable instruments at EightCap
Forex : over 30 currency pairs
Indices : eight major indices from around the world
Cryptocurrencies : six major cryptos against US dollars
Commodities : Gold, Silver, Brent Oil and WTI Oil
Trading in indices, commodities (two precious metals and oils) and crypto currencies decreases with EightCap a much less important one than the Forex trade. At the same time, investors who want to invest in other underlying assets in addition to forex trading will find the right opportunity at the broker. However, the focus is undoubtedly on trading currency pairs.
This forex broker divides currency pairs into three categories: smaller, exotic and important currency pairs. Important currency pairs always contain the US dollar, as well as a currency from Canada, Australia, New Zealand, Switzerland, Japan, Great Britain and the euro zone. Pairs made up of the currencies of these countries but not including the US dollar are among the smaller currency pairs at 8Cap. The package is rounded off by exotic pairs that contain the US dollar on the one hand and the currency of a smaller economy on the other.
Trading conditions & minimum deposit: Tight spreads in Forex
When comparing CFDs and Forex broker, interested traders weight not only the selection of tradable underlyings but also the trading costs the highest. After all, any fee will negatively affect the result of a trade. First of all, it should be noted that with EightCap costs arise exclusively from the spread. There's no additional commission on position opening or other trading fees. According to our 8Cap experience, the spreads can be described as competitive and are as follows:
| | | |
| --- | --- | --- |
| Trading instrument | Standard account | Raw account |
| Major currency pairs | 0.8 to 2.0 pips | 0.0 to 1.2 pips |
| Smaller forex pairs | 1.0 to 3.5 pips | 0.0 to 2.6 pips |
| Exotic currency pairs | 1.1 to 5.0 pips | 0.1 to 4.0 pips |
| Cryptocurrencies | 1 to 50 pips | 1 to 50 pips |
| Indices | 0.3 to 5.0 pips | 0.3 to 5.0 pips |
For raw materials, the spread for gold is between 20 and 30 cents, for silver between 15 and 40 cents. The spread for the 2 types of oil is between 0.04 and 0.59 points. All information relies on typical spreads, which, however, can deviate significantly from the values given here, especially in times of volatile market conditions.
The min. deposit with the EightCap provider is 100 units of the account base currency. Investors have the option of capitalizing their account in euros, Australian dollars, US dollars, British pounds or New Zealand dollars.
Trading platform and mobile trading: MT4, MT5 and web traders
In addition to the standard account, which is perhaps the most interesting for most private investors, EightCap also offers a so-called raw account. Both account types differ in many ways, but they also have one thing in common. Because both accounts can be used on all trading platforms that 8Cap offers.
After registering, investors can choose between these trading platforms:
MetaTrader 4
MetaTrader 5
EightCap Webtrader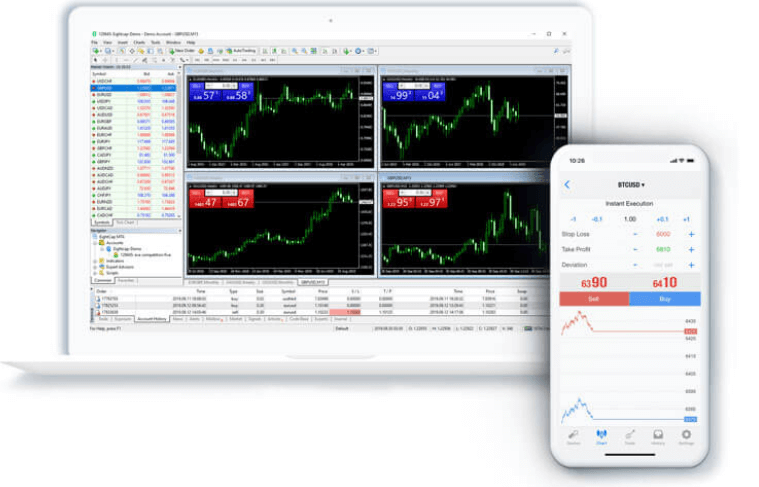 MetaQuotes' MetaTrader has been one amongst the most popular trading platforms for Forex traders for years. One reason may be the fact that the trading software isn't limited to use by a specific broker, but is supported by numerous CFD and Forex brokers. Even when switching from one provider to the next, traders often don't have to do without the familiar trading environment.
Another reason is the fact that the MetaTrader can be ideally adapted to the needs of the user by integrating Expert Advisors (EA) or your own indicators. This is applicable to both MetaTrader 4, which has probably been the most popular platform for Forex trading for years, as well as its successor, MetaTrader 5. The range is rounded off by the EightCap Webtrader. Although this doesn't provide the functionality of the 2 MetaTraders, it may be opened in any modern browser and thus offers maximum flexibility.
Account opening and bonus: set up an account in just a few steps
As it can already be seen from the previous sections, investors at EightCap have the choice between two trading accounts: the standard account and the raw account. While the standard account should be the first choice for most private investors with little or no experience in CFD and Forex trading, the raw account is aimed primarily at experienced traders.
Account creation is a matter of minutes at EightCap and may be done entirely online. First of all, new customers always receive a standard account. Standard accounts can later be upgraded to a raw accounts. Both accounts are basically equipped with the same functions and conditions. However, owners of a raw account benefit from narrower spreads and receive a commission on positions opened.
As already mentioned, EightCap is a regulated financial service provider. For this reason, two documents are required for new customers when opening an account:
Photo ID : The broker accepts driver's licenses, ID cards, passports, and other IDs issued by a government agency. The name and signature of the applicant and the expiry date of the document must be clearly visible on these.
Proof of address : this can be in the form of a bank statement or a utility bill . The provided document must not be older than three months. Furthermore, the name and address must match the details given when opening the account.
Demo account: free of charge and can be used without restrictions for 30 days
How can investors interested in a CFD and Forex broker get to know them better? the answer is quite simple: through a demo trading account. Demo accounts are now offered by numerous brokers and should be used by investors regardless of their experience – because they provide many advantages.
For beginners, the benefits are obvious. Since the demo account isn't used for trading with real capital but with virtual credit, its use is completely risk-free. Investors can therefore familiarize themselves with all the properties of a financial market product. Mistakes made in the process don't cause any financial damage. This means that investors at EightCap Forex can gain experience completely risk-free.
But investors can't only get to know the investment products better, but also the broker's trading platform. The Webtrader as well as both the MT4 and MT5 platforms allow the opening of a demo account. This enables interested parties to familiarize themselves with all functions there. Experienced traders who already know both the product and the broker can also benefit from a demo account.
Customer support and Education
Not every investor starts his or her career as a professional. Inexperienced Forex traders keep running into problems and questions, especially in the early days. These can be of a diverse nature and relate to both the investment product and broker properties. For this reason, it's important that the broker provides a comprehensive service for training and further education of its customers.
EightCap provides this service via the "Support" category, which can be found directly on the main page of the online presence. Their website has extensive FAQ area that answers numerous questions in various categories. A training area with webinars or video tutorials, as many other brokers are now offering, can't be found at 8Cap.
EightCap provides customer support via the following ways:
telephone hotline
email
live chat
Deposit and Withdrawal: Broker doesn't charge any fees
There is no cost to opening a live account with the CFD and Forex broker EightCap. However, the broker requires an initial deposit of 100 dollars before the account can be used for trading. For this purpose, Canadian investors can choose from the following payment options:
Credit and debit cards
Bank Transfer
Skrill
In contrast to many other brokers, the choice is quite small, but it shouldn't be forgotten that traders from numerous countries belong to the broker's customer base. The 3 ways to capitalize the trading account mentioned above can be used from numerous countries. A deposit can be made by credit card or bank transfer, for instance in the currencies AUD, USD, GBP, EUR, NZD, CAD and SGD.
In addition, the broker cooperates with the Australian service providers BPAY and POLi Payment, which only allow payments in AUD. The fact that the broker doesn't charge any internal fees for deposits or withdrawals should prove to be advantageous for investors. In their own interest, however, customers should find out whether their house bank charges fees, especially when using bank transfers.
Conclusion
In particular, investors who want to trade EightCap Forex should take a closer look at the broker's offer. in combination with some cryptocurrencies which will even be traded against the dollar, the broker offers a variety of over 40 currency pairs. I additions to the cryptos, these are divided into important, smaller and exotic FX pairs. thanks to the narrow spreads, these are often traded on competitive terms. There are not any further trading costs. 8Cap doesn't incur any costs when opening the trading account or making deposits and withdrawals. Only the minimum deposit of 100 dollars has got to be observed.