Day trading stocks in Canada is a captivating pursuit that offers the potential for substantial gains within a single trading day. The fast-paced nature of day trading, however, demands precision, strategy, and a deep understanding of market dynamics.
This article delves into the world of day trading stocks in Canada, uncovering the essence of this thrilling endeavor, exploring essential strategies, and providing insights for those looking to embrace the daily rhythm of the market.
Best Canadian Day Trading Stock Brokers
Broker Name
Bonus
Details
What are Day Trading Stocks?
Trading is something that refers to buying and selling of a product. When we talk about stock trading it involves buying and selling stocks. Well, just add a day to trading stocks to make it day trading stocks, and the meaning will somewhat change. Day trading stocks means to buy or sell stocks within a day, but it is done considering the price fluctuations within that day.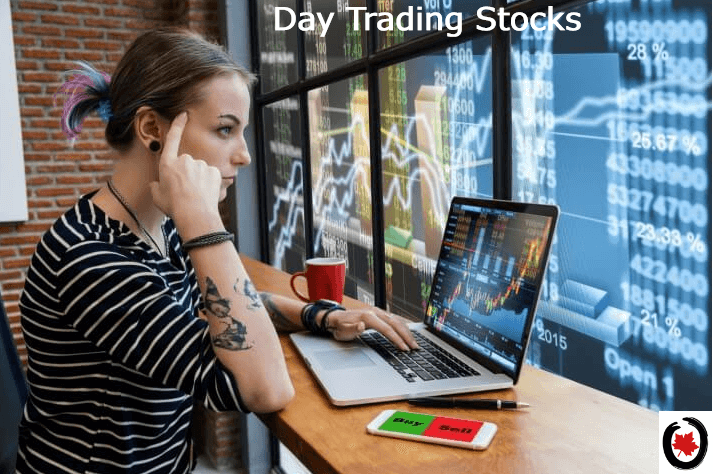 The main goal of the traders here is to buy low and sell high. A common practice is to buy in huge volume and sell when the price increases within that day. Day trading stocks Canada is both interesting and attractive because it needs experience and knowledge but on top of everything it needs a lot of luck with nerves of steel because there is high risk.
So, day trading stocks can make you or break you, but it is pretty much in your hands.
Defining Day Trading
Day trading is a trading strategy where investors buy and sell financial instruments, such as stocks, within the same trading day, aiming to profit from short-term price movements.
The Canadian Day Trading Landscape
The Canadian stock market provides a diverse range of opportunities for day traders, offering access to a wide array of liquid and volatile stocks.
Navigating the World of Intraday Trading
Day traders navigate the fast-paced world of intraday trading, where split-second decisions and market analysis play a crucial role in success.
Top 10 Day Trading Stocks in Canada to buy right now
Air Canada (AC.TO): A major airline company that experiences significant price fluctuations, making it a popular choice for day traders.
Aurora Cannabis Inc. (ACB.TO): A well-known cannabis company with high trading volume and price volatility, attracting attention from day traders.
Bombardier Inc. (BBD-B.TO): A manufacturer of planes and trains and often experiences intraday price movements that can create trading opportunities.
Cineplex Inc. (CGX.TO): A leading entertainment company, can see notable price changes due to factors such as movie releases and box office performance.
BlackBerry Limited (BB.TO): Once known for its smartphones, has transitioned to cybersecurity and software services, leading to intraday trading opportunities.
Suncor Energy Inc. (SU.TO): A major energy company, can be influenced by oil price fluctuations, offering potential for day trading.
Canopy Growth Corporation (WEED.TO): A prominent cannabis company with high trading volume and volatile price movements, appealing to day traders.
Shopify Inc. (SHOP.TO): An e-commerce platform, is known for its rapid price changes and is favored by day traders interested in technology stocks.
Kinross Gold Corporation (K.TO): Operates in the gold mining sector, which can be influenced by fluctuations in the price of gold.
CCL Industries Inc. (CCL-B.TO): A label and packaging solutions company that can experience intraday price movements.
Day Trading Stocks Order Types
The benefit of the internet and technology for day trading stocks Canada is that the whole thing is now very easy. All a trader needs to do is to execute an order online. Any broker account can help in this regard and the following are the options to do with.
Limit Order
This is the order type where you can set the selling and buying limits. So, the order will not complete as long as the limit of the order reaches.
Stop Order
Stop order involves buying or selling a stock at a specific price. It is known as the stop order but when the specific price meets the order becomes a market order.
Market Order
The best order type is the market order. It can provide you with the best buying or selling price in the market.
How much do you need To Start Day Trading Stocks?
A clear concept is that bigger investments come with bigger profits. However, a major factor to consider is the risk factor. So, instead of starting trading with a huge amount, it is the best choice to start with the 1% of your account balance.
In this way, the loss will not be as large. At the same time, another important thing is the minimum trading limit for different trading options. So, the best way is to use the minimum amount possible to gain experience and then use the experience to win big.
Yes, risks are everywhere and where there is short-term success the risk factor increases a lot. However, if you make every decision after complete thinking and analysis then you can make the best decision.
It is also the best way to stay safe by taking the help of understanding what you are doing and backing your decisions up with experience, research, and knowledge.
Embracing the Day Trading Journey: Essential Strategies for Success
Day trading demands a well-crafted plan and disciplined execution. This section provides essential strategies to help day traders navigate the volatile waters of the market with confidence.
Creating a Solid Trading Plan
A well-defined trading plan is the foundation of successful day trading, encompassing strategies, risk tolerance, and entry and exit points.
Leveraging Technical Analysis
Technical analysis is a vital tool for day traders, enabling them to analyze price charts, identify patterns, and make informed trading decisions.
Implementing Risk Management Techniques
Managing risk is paramount in day trading, and strategies such as setting stop-loss orders and position sizing are crucial for protecting capital.
The Role of Trading Psychology
Day trading requires a strong mindset, and understanding and managing trading psychology are essential for maintaining discipline and emotional balance.
Canadian Stock Market Platforms and Tools for Day Traders
Equipped with the right tools, day traders can navigate the market with efficiency and accuracy. This section explores the platforms and tools available to Canadian day traders.
Online Trading Platforms
Online trading platforms provide access to the stock market, allowing day traders to execute trades and access real-time data and analysis.
Real-Time Market Data and Analysis Tools
Real-time market data and analysis tools enable day traders to monitor stock prices, volume, and market depth for informed decision-making.
Order Types and Execution Platforms
Day traders can utilize various order types, such as market orders and limit orders, to execute trades swiftly and efficiently.
The Legal Landscape: Rules and Regulations for Day Traders in Canada
Day traders must navigate the legal framework governing their activities. This section sheds light on important rules and regulations for day traders in Canada.
Understanding the Pattern Day Trader (PDT) Rule
The Pattern Day Trader (PDT) rule, enforced by regulators, requires day traders to maintain a minimum account balance if they execute four or more day trades within a five-day period.
Tax Implications for Day Traders
Day traders must be aware of tax regulations related to trading activities, including capital gains tax and income tax on trading profits.
Adhering to Regulatory Guidelines
Compliance with securities regulations and trading guidelines is essential for day traders to operate within the bounds of the law.
Paving the Path to Profitability: Key Tips for Canadian Day Traders
Achieving profitability as a day trader requires discipline and continuous improvement. This section offers key tips to help Canadian day traders on their journey to success.
Start Small and Practice Diligently
Begin with a small amount of capital and practice diligently to gain experience and confidence in day trading strategies.
Learn from Mistakes and Adapt
Mistakes are valuable learning opportunities for day traders. Embrace a growth mindset, learn from past trades, and adapt your strategies accordingly.
Focus on Liquid Stocks
Liquid stocks offer better opportunities for day trading, as they allow for quicker execution of trades and tighter bid-ask spreads.
Set Realistic Goals and Manage Expectations
Set achievable goals and manage expectations regarding profitability. Day trading requires continuous learning and improvement.
FAQs about Day Trading Stocks in Canada
What is day trading, and how does it differ from other trading strategies?
Day trading involves buying and selling financial instruments within the same trading day to capitalize on short-term price movements. It differs from long-term investing, which involves holding investments for an extended period.
How much capital do I need to start day trading stocks in Canada?
The amount of capital needed for day trading varies, but day traders should have enough to meet the minimum account balance requirements set by regulators and have sufficient funds for risk management.
What are the risks associated with day trading, and how can I mitigate them?
Day trading carries various risks, including market volatility, liquidity issues, and emotional decision-making. Mitigate risks through proper risk management, setting stop-loss orders, and maintaining a disciplined trading approach.
Can I day trade with a full-time job?
Day trading with a full-time job is possible, but it requires careful time management, access to real-time data, and the ability to execute trades during trading hours.
How do taxes work for day traders in Canada?
Day trading profits are subject to capital gains tax, and day traders are required to keep detailed records of their trading activities for tax reporting purposes.
Conclusion
Day trading stocks in Canada is a thrilling journey that demands a blend of skill, strategy, and discipline. Navigating the market's daily rhythm requires a deep understanding of intraday dynamics, technical analysis, risk management, and trading psychology. By embracing the tools, knowledge, and strategies available, aspiring day traders can embark on a path towards mastering the art of intraday trading, seizing opportunities, and navigating the complexities of the Canadian stock market with confidence.