Changpeng Zhao started Binance in 2017. He is still the CEO of the company today. You can buy and sell cryptocurrencies and trade in different ways on the platform. Here is a list of the most important things that you can do at Binance:
A variety of cryptocurrencies are supported, including Bitcoin and Ethereum
Comprehensive charts to help you make better purchasing decisions
There are many ways to trade, such as margin and futures
P2P marketplaces available for direct deals
Pros
Binance is the largest crypto exchange in the world
Binance is available for Canadian customers
Cons
Having a lot of platform selections could be confusing for beginners
Trading options on Binance
The platform lets you do different trades depending on where you buy your cryptocurrencies. Cryptocurrency exchanges can, for example, offer options, futures, spot markets, and more.
Binance offers more than one way to trade. Among these are:
Futures: When you trade futures, you agree on how much an asset, like cryptocurrency, will cost at a certain time in the future. Prices and times are set up front, and once you agree to the contract, you have to finish the deal.
Options: Options trading is different from futures. The buyer is not forced to make a purchase. Instead, he or she can choose not to. This contract only lets you do it if you want to.
Some of the top cryptocurrencies offered through these trades on Binance include:
Bitcoin (BTC)
Ripple (XRP)
Tether (USDT)
Cardano (ADA)
Binance USD (BUSD)
Ax Infinity (AXS)
Dogecoin (DOGE)
Binance Leverage
Before we go any further, it's important to remember that trading with leverage is riskier and should be done with care, especially if you're new to it all.
Binance has a wide range of options for trading with leverage. The structure is tiered, with lower stats getting 26x to 50x and much higher stats getting only 1x. Both Bitcoin/BUSD and Ethereum/BUSD use these numbers.
When you use Binance as a loan, the margin rate changes and goes up in value as well. The margin rates for Bitcoin/BUSD and Ethereum/BUSD range from 2% to 100%.
Binance also has tokens that let you trade without having to worry about being liquidated. This has a different lever.
What are the fees for deposit and withdrawal?
Binance is like a lot of other crypto exchanges in that it charges fees when you buy or sell crypto. Fees for deposits vary by currency and payment method.
Deposit Methods
When you buy cryptocurrencies through Binance's P2P marketplace, you can use more than 100 ways to pay. We only want to talk about Binance's main platform in this article, though.
You can use any of the following ways to put fiat money into your Binance account:
Bank transfer (SEPA transfer)
Debit/Credit Card
Binance has limits on how much you can deposit, just like many other exchanges. As a professional trader, you can put up to €1 million per day into your account, but if you ask, you can put in more.
If you use it often, your limits will be set based on each situation. If you deposit more than your daily limit, Binance will put the money into your account over the next few days until you get it all.
How quickly you can send money depends on how you make the payment. When you use SEPA to put money into your account, it usually takes between one and three business days. Debit or credit card deposits, on the other hand, are usually processed right away.
Depending on where you live, you may need to confirm your transaction. In some countries, you have to sign in to an app and prove who you are. In others, you have to open the app for your bank and confirm the amount you want to deposit.
If you are depositing a large amount, you may also need to enter your security code or confirm the transaction with your fingerprint or face.
Withdrawal Methods
When you want to get money out of Binance, you can move the money from your balance to your bank account. Before you enter your information, you have to decide how much of your crypto you want to turn into real money.
How fast you can get your money depends on how fast you can get paid. First, the way you bank makes a difference: Transferring money through SEPA takes one to three business days, while other ways of paying can be lightning fast.
Like when you make a deposit, your limits depend on a number of things, like where you live.
Fees for withdrawals depend on the currency and method of payment you choose. If you live in the US, it costs $15 to send money. If you pay out via SEPA transfer in the European Economic Area (EEA), you pay €1.50.
Binance fees and commissions
When you trade cryptocurrencies, you have to pay a fee. But the platform may add extra commissions in some cases. This is pretty standard in the industry, and no matter where you buy your cryptocurrencies, you will have to pay a fee of some kind.
We've already talked about how much it costs to deposit and take money out. About them, you can read in the sections above. If you can't find the information you need for your currency and payment method, the Binance website has a full list for both.
When you buy or sell cryptocurrency on Binance, you have to pay maker/taker fees. These depend on how many trades you make in 30 days. For spot trading, they are between 0.1% and 0.02% and 0.04%. You can get a 25 percent discount on your spot trading costs if you buy BNB to pay for these fees.
The fees you pay as a maker or a taker depend on the type of trade you are using. The same goes for your BNB discount.
Also, you have to pay fees to use the blockchain when you trade crypto pairs. So it depends on what coins you use. For example, the range of BTC/ETH is between 0.02 and 0.06 percent.
Binance trading platform
Binance is the biggest cryptocurrency exchange in the world, so it makes sense that you can use it on different devices.
Binance can be used through both its website and its app, which is available for both iOS and Android. You can also install the app on your PC, whether it runs macOS, Windows, or Linux. With the app, you can buy and sell cryptocurrencies, see live charts, and look at your portfolio.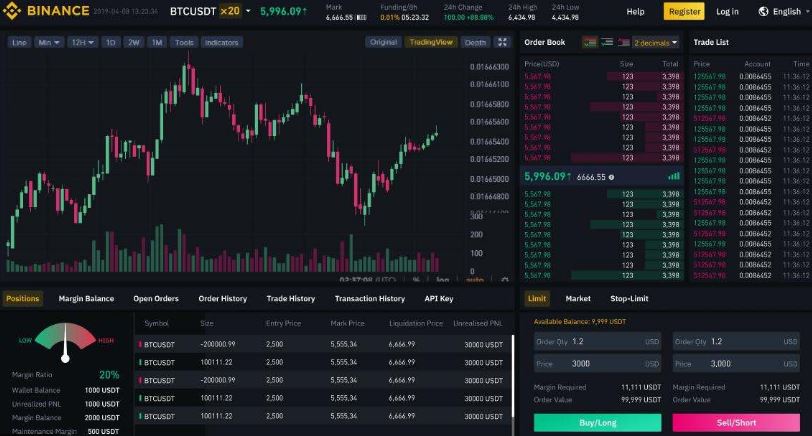 Below are all the devices you can use to access the Binance trading platform:
Android
iPhone
Linux
Windows
Mac
Binance features
Binance is popular with crypto fans of all skill levels because it has many features that make it easy to use. Here are the three most important ones.
Charts
If you are a day trader, it is especially important to keep an eye on the prices of the cryptocurrencies you are trading. Binance has charts that show how each cryptocurrency is doing in real time, which can help you make better decisions.
Adjustment
As we've already said, Binance has a lot of features, which can make it hard to figure out how to use at first. You can customize the platform so that your favorite tools are easy to find.
QR code scanner
In the crypto world, it's important to sign up quickly, but security is also very important. Binance lets you use a QR code to log in to its app, so you can do both.
Security and Regulation
Is Binance safe?
Binance has a number of tools that can help you improve your security. For example, you can set up your account to use two-factor authentication.
You can also limit access if you think someone else has access to one of your devices where you are logged into Binance.
Am I and my cryptocurrencies protected?
If you have a US dollar balance on Binance, you can get up to $250,000. This depends on the country, so you should find out ahead of time what the rules are in your country. That should make you feel better if something unexpected happens, like a hacker attack.
Is Binance regulated?
It's not clear how Binance is regulated. For example, in the Netherlands it was not possible to use the platform for a while.
Binance has also gotten bad reviews in places like Great Britain. But the UK Financial Conduct Authority (FCA) said that Binance had met the requirements of the agency for June 2021.
In 2021, Binance gave up on trying to get a license in Singapore and has since stopped offering services there.
Binance.US has licenses in more than one US state.
Learning materials
Binance has a lot of extra things to offer. You can also use the Binance Academy, which is like a school. Here, you can find a full glossary, a lot of different videos that teach you how to do things related to cryptocurrencies, and much more.
Binance Academy is completely free to sign up for and use.
Tools and charts
Binance offers various tools that you can use to track the price of cryptocurrencies. TradingView gives you an overview of the price of a cryptocurrency and offers various functions. This includes:
Time chart
Technical indicators
Depth chart
Customer Support
Binance has a full support center with many ways to find answers to the most common questions. If you still need help, you can send in a request and get good support.
Binance gives you several ways to use social media if that's what you want to do. You can get in touch with the company on Twitter, Facebook, and Instagram, just to name a few.
How to buy and sell cryptocurrencies on Binance
How to buy cryptocurrencies on Binance
Go to the Binance website and register. If you already have an account, simply log in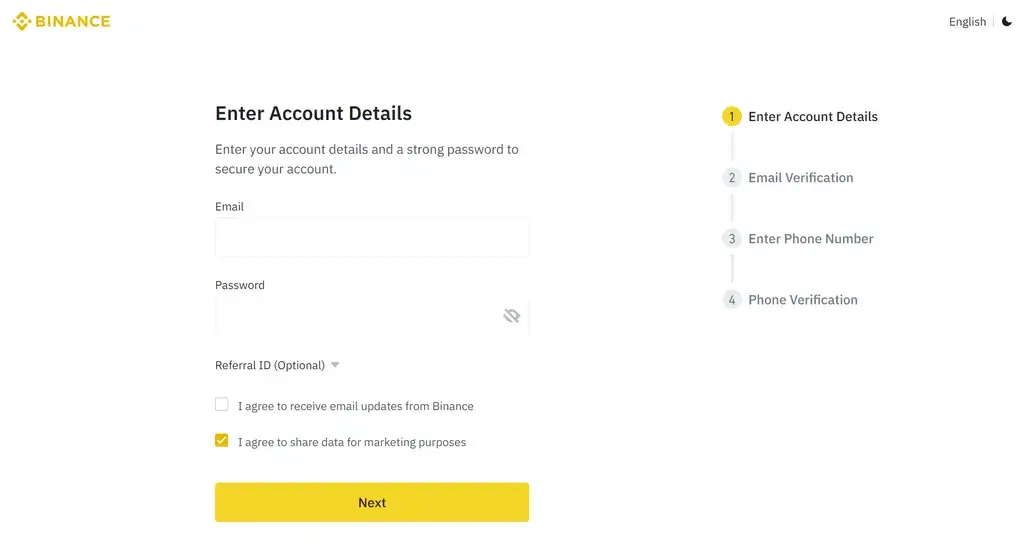 Enter your details. After that you have to upload a photo of your ID and take a selfie of yourself.
Click on the "Buy Now"

Choose the currency you want to buy cryptocurrencies with. In the same window you also select the cryptocurrency.

Decide how you want to pay for the purchase. A number of options are available for this.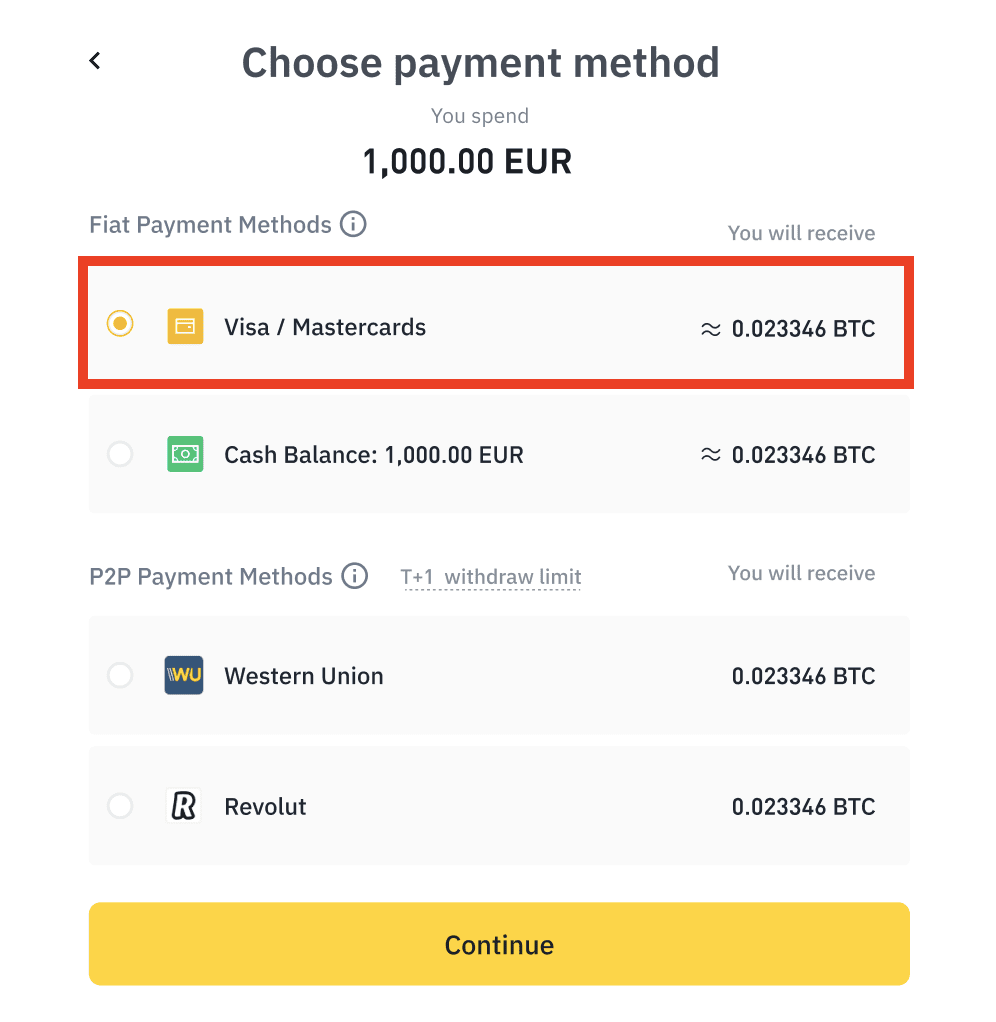 Click Next, enter your details and confirm the transaction before the timer runs out.

How to sell cryptocurrencies on Binance
Step 1: Login to your Binance account. If you don't have one yet, register
Step 2: If you are using an external wallet, link it to be able to sell your cryptocurrencies
Step 3: Select the Fiat and Spot tabs. Then sell your coins. Then click on the Withdraw button
Step 4: Tap on the Fiat option
Step 5: Enter the amount of fiat money (e.g. Euros or US Dollars) you wish to withdraw. Then confirm the transaction.
Final Verdict
By the time you reach the end of this guide, you should know exactly how to use Binance and what it's good for. This shouldn't be a surprise, since Binance is the biggest cryptocurrency exchange in the world and has a wide range of services and tools that make it a great choice for people of all skill levels. Binance also offers a wide variety of resources to help you learn all about cryptocurrencies and blockchains.
FAQs
Is Binance available in Canada?
Yes, Binance is available in several countries including Canada.
Is Binance trading legal in Canada?
Yes, Binance just got a license to do business in Canada.
How easy is it to use Binance?
Binance is pretty easy to use, although the sheer number of tools available may put you off at first. You can easily buy and sell cryptocurrencies, and moving them to your wallet is not a challenge either.
Is Binance safe?
Binance offers various tools to help you achieve a higher level of security. For example, you can enable two-factor authentication for your account.
Can I buy Bitcoin on Binance Canada?
Yes. If you live in Canada and want to buy cryptocurrency with Canadian dollars, you can use a credit or debit card, peer-to-peer trading, or a third-party payment service like Simplex or Banxa.
More Canadian Crypto Exchange Reviews: