Market apps for iPhone provide access to live stock market data and trading, as well as a mobile version of the online trading platform available through the brokerage website.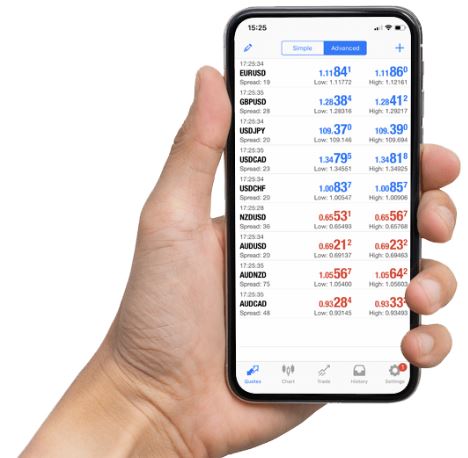 Stock market apps provide access to the critical stock market and investing resources optimized for phone and tablet screens, whether you're a serious trader or a casual investor.
Compare Top iPhone Canada Stock Apps
Broker
Bonus
Top Feature
Benefits
Factors to consider when choosing a stock app for iPhone in Canada
Consider some key details when selecting the best stock market apps for your needs, such as:
Speed
Regardless of the type of trading you want to do, speed is everything.
Ideally, you should choose an app that allows you to complete transactions quickly. A slow app degrades the user experience and creates a barrier when placing an order.
As a result, ensure that the app you use is fast enough to allow you to conduct your trade smoothly.
User experience
Check that the app has a good user experience and that you can move from one section to another easily.
The app interface should be simple and easy to use, allowing you to conduct even the most complex trades. Customization is also critical. It should be able to be configured in the manner in which you want to use it.
Charges and fee
If the stock trading app you use has a high fee, it will eventually eat into your profits. As a result, you must ensure that the mobile trading app you use has a reasonable fee structure.
Live portfolio review and market updates.
To remain on top of your game, you must stay current on market developments.
As a result, you should select an online trading app that allows you to review your portfolio in real time and keeps you up to date on market developments.
Alerts and notifications
A trading app must have timely alerts and notifications. This is due to the impossibility of regularly monitoring trends. Alerts ensure that you don't miss out on important market events.
The alerts also allow you to capitalize on a potential opportunity.
Available features
Examine the available features in the mobile trading app to see how they can benefit you.
To make your trading experience as smooth as possible, you should choose an app with extensive features.
Stock apps for iPhone Canada Reviewed
Questrade
Questrade is an excellent platform for both novice and seasoned investors. It has been around since 1999 and is "Canada's fastest-growing online brokerage." Additionally, it is one of the top investment apps in Canada.
This app provides you with access to a wider range of investment products and accounts, including corporate investment accounts.
Key features
Account minimum of $1,000
The trading commission charged is $4.95 minimum to $9.99 maximum per trade (1 cent per stock)
Securities offered include Stocks, ETFs, options, bonds, FX, GICs, mutual funds, CFDs, and precious metals.
Accounts offered to include TFSA, RRSP, RESP, RRIF, margin, corporate, and trusts.
Promotion available on the app get $50 in free trades when you open an account and deposit at least $1,000
Wealthsimple Trade
Wealthsimple trade is one of only a handful of Canadian stock trading apps that offer commission-free trading for both stocks and ETFs. This makes it an excellent option for novices who wish to experiment with self-directed investing.
The fee savings (up to $9.99/trade) eliminate the need to make numerous small trades and pay a hefty fee each time you purchase a stock.
And if you are investing small sums in purchasing penny stocks, this is one of the best apps in Canada for penny stocks.
Through its mobile application, you can use the platform on your laptop or mobile device.
Wealthsimple trade is owned by Wealthsimple, the most popular online wealth manager in Canada, which manages over $15 billion in assets.
Key features
Account minimum: $0
Trading commission: $0
Securities offered: Stocks and ETFs
Accounts offered: TFSA, RRSP, personal non-registered
Promotion: Receive a $25 cash bonus when you fund your new account with $200 or more.
CIBC Investor's Edge
In Canada, CIBC Investor's Edge is the leader among large bank brokerages. This app for trading bank stocks is a division of CIBC Investor Services Inc., a CIBC subsidiary.
It provides investors with the lowest commission fees, an excellent desktop and mobile app, and comprehensive research and analytical tools.
The additional discounts for younger investors and students are an excellent way to encourage investing at a young age with minimal fees.
Key features
Account minimum: $0
Trading commission: $6.95/trade ($5.95 for students)
Securities offered include Stocks, ETFs, options, GICs, fixed income, precious metals, and mutual funds
Accounts offered to include TFSA, RRSP, RESP, RRIF, margin, corporate, and trust accounts
TD Direct Investing
TD Direct Investing is one of Canada's largest investment platforms due to its high exposure to TD Canada Trust banking customers.
TD Direct Investing is one of the most comprehensive brokerages, offering a comprehensive selection of investment products and cutting-edge trading technology, albeit with higher commission fees than discount brokerages.
This platform has some of the most expensive trading fees in Canada. If your account balance is less than $15,000, a quarterly maintenance fee of $25 will apply. It does not provide free ETFs.
Key features
Account minimum: $0
Trading commission: $9.99/trade
Securities offered: Stocks, options, ETFs, mutual funds, bonds, precious metals
Accounts offered: TFSA, RRSP, RESP, RRIF, RDSP, margin accounts
BMO InvestorLine
BMO InvestorLine is an additional brokerage service provided by a major Canadian bank.
While it offers some advantageous features, such as commission-free ETF trades for certain Canadian ETFs and BMO SmartFolio Robo-investing, the high commission fees make it more expensive than the majority of Canadian discount brokerages.
Conclusion
Depending on the type of investor you are, the best stock trading app will differ. Compare prices thoroughly. However, you should also consider the app's additional features and resources, as well as its cost structure in relation to your own trading requirements.
More trading platform options: