Welcome to Forex Canada – the premier guide for forex trading in Canada. Our team is dedicated to connecting Canadian traders with the best forex trading sites in 2022. The traders can feel confident and safe choosing from any of our recommended list of the Canadian brokers.
Are you interested in forex trading, but are still searching for the best forex broker to get started with? Our forex broker comparison helps here – experienced traders and financial experts take an in depth look at the best providers on ForexCanada.ca to make your choice easier. Find out about the most important criteria when choosing a broker, who is the best Canadian forex broker? Learn more about proven forex strategies and the current trends in the forex market.
Best Canadian Forex Brokers
Here are our top-rated Forex brokers independently reviewed and recommended by Forex Canada's team of experts:


Our Process for Forex Reviews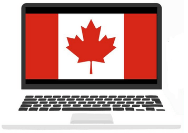 Do you belong to a small group of market participants who are convinced that forex trading is only for professional traders, hedge funds or banks? Let us convince you otherwise. Anyone who has done a little research can be a successful fx market trader. You can find a load of information about 4x trading out there today with each of them claiming to be reliable. We are interested in your progress and will give everything to see you become a successful trader. Our forex trading products and services are not limited to Canada; you can also enjoy what we have to offer from different parts of the world. That's why we constantly update our ratings to ensure Canadian traders are getting the latest info on foreign exchange market. Here is a look at some of the areas we evaluate in when looking at where to trade forex online:
Security
Trading platform
Customer support
Trading fees and costs
Deposit and withdrawal speed
Our aim here at Forex Canada is to help you find your fun. We help you find it through forex trading reviews. We believe foreign exchange trading is fun!
Reputable Top Forex Brokers Canada – How to find a list of all legal brokers
Most forex brokers active in Canada have a foreign place of business and only operate a branch in this country. Top forex brokers Canada offers some advantages. Forex traders in Canada benefit from reliable regulation by the Investment Industry Regulatory Organization of Canada (IIROC), and also the Canadian Investor Protection Fund (CIPF) which protects the invested capital to a certain extent. Anyone who opts for a broker based outside of Canada should in any case pay attention to the regulations.
Regulation may be a critical factor when choosing the best forex broker. Confirm your broker is under the regulation of either the FCA, CySEC, or ASIC. FSCA regulation is additionally important as this suggests any complaints you've got are going to be resolved through the Canada system.
Consider the various Account Types on offer at your broker, most brokers offer swap-free Islamic accounts, and a few offer unlimited demo accounts to practice with.
Think about whether you would like a CA Dollar Account instead of a USD Account. Not many brokers offer CAD accounts, but they are doing prevent money in conversion fees and guarantee that your money is with an area bank.
Why Compare Canadian Forex Brokers
In order to actively start online Forex trading in Canada, you firstly need a Canadian forex broker who enables you to trade forex online. The forex broker provides an online trading platform on which you can trade different currency pairs.
Due to the increasing interest in Forex trading, the number of brokers in Canada has also increased in recent years. Not all providers are a similar when it comes to trading offers, conditions and other services. In addition, every trader has his own needs and techniques. It's therefore worth taking a more in-depth look and comparing Canadian Forex brokers well with one another. At ForexCanada.ca we therefore introduce you to the best and most popular brokers where you can get professional tools for foreign exchange trading.
Forex brokers Accepting Canadian Clients
We have searched the Internet to find the very best forex brokers canada in 2022. We've compared all the top IIROC forex brokers canada out there to find the best of the best. Find the best forex brokers in canada reddit as well as the top 10 trading sites at Forex Canada.
FXCC Broker – Best for Tight Spreads
Fusion Markets – Has the Lowest Commissions
BlackBull Markets – Top ECN trading broker in Canada
easyMarkets Broker – Good Platform with Guaranteed Stop Losses
Forex.com Broker – Best for Technical Analysis
Fpmarkets – Best Forex Demo Account
Eightcap – Interactive Platform with the Lowest Fees
LegacyFX – Offers Great Educational Materials
Avatrade – Best for Market Research Analysis
FXChoice – Best Canadian Broker with Low FX swap Rates
What to consider When Choosing a Forex Broker in Canada
The decision for a particular Forex broker should be made after a thorough examination of the products and services. Certain quality criteria can be set up here, which provide information about how well a broker performs in comparison. Our tests are based on the following factors:
Deposit security thanks to licensing and regulation by a reputable financial supervisory authority such as the CIPF.
A trading offering that provides enough choice for various forex trading strategies.
Customer service that is easy to reach which responds to inquiries in a competent and friendly manner.
Additional services, such as a free demo trading account, training materials or discounts for frequent traders.
Transparent costs and conditions so that the return isn't reduced by hidden fees.
Powerful trading software that guarantees fast, reliable execution of trades, also as a mobile app.
Leverage
The so-called leverage allows you to move significantly extra money than is really deposited. The leverage is really a loan from the broker that's granted for the duration of the execution of a trade. to guard private investors. Below are recommended leverages for some instruments:
100: 1 for major currency pairs
300: 1 for other currency pairs, gold and major indices
100: 1 for commodities and secondary indices
100: 1 for stocks
200: 1 for cryptocurrencies
With a 100-fold leverage on the liquid forex pair EURUSD, you can open a position over 3,000 dollars with deposited capital of 100 dollars. However, the lower the leverage, the lower the risk. Therefore, beginners should first get to understand the leverage effect in a demo account and begin carefully with small amounts.
Regulation
Regulators make sure that brokers have a good trading environment and anti-money laundering processes, all the while operating strict auditing oversight and ensuring client fund protection. Brokers that are under regulation by one major regulator are more trustworthy.
The major forex broker regulators are:
United Kingdom – Financial Conduct Authority (FCA)
Canada – Investment Industry Regulatory Organization of Canada (IIROC)
Continental Europe – Cyprus Securities and Exchange Commission (CySEC)
Australia –Australian Securities and Investments Commission (ASIC)
Africa- Financial Services Conduct Authority (FSCA)
These international regulators have good ratings. They also have strong oversight, and swift enforcement of sanctions on fraudulent brokers.
A trustworthy broker should be under the regulation of a minimum of one among the main regulators or the FSCA. Brokers that are under regulation by more than one regulator are more reliable.
Spread
The so-called spread is nothing more than the difference between the bid and ask price of a forex pair or another underlying asset, i.e. between the buy and sell price. Forex and CFD brokers indicate the spreads for the values offered in lists on their website and via the trading platform, in pips. A pip is the unit of measure for price fluctuations in the fifth digit.
In practice this means: you're trading the forex pair EURUSD, which is displayed in the chart with a price of 1.2000. The broker will now specify two rates – in our example 1.2002 and 1.2000. The spread you will be charged in this case is 2 pips.
Fees and costs
The costs involved in trading are quite different. Many brokers only charge the spread, others also charge commissions per order. Particular attention should be paid to hidden fees that may also apply. These include fees for deposits and withdrawals or for longer periods of inactivity. The reviews and experience reports on deutschefxbroker.de reveal such hidden costs!
Market model
The trading costs depend heavily on which market model you discover with a forex and CFD broker. Essentially, a distinction is made between market makers and STP / ECN forex brokers. Market makers set the costs for their customers themselves – during this case traders trade against the broker. For this, only the spreads apply, which are a touch above with STP / ECN brokers. The latter forward the orders directly and sometimes offer extremely narrow spreads, but charge their traders a commission for this.
With STP or Straight Through Processing, the orders are forwarded directly to a bank or liquidity pool. In the best case scenario, several banks compete, the trader receives the best price offered for execution. So-called ECN brokers go even further. Here the customer becomes a participant in the liquidity network and may trade directly with banks, but also with other traders. The orders are placed in the so-called order book and can be traced at any time.
It is not uncommon for the same broker to offer different models, using different account types. Market makers are a good choice for beginners with few trades, while STP / ECN brokers are worthwhile for active, experienced traders. When comparing brokers, the market model plays an important role, especially for costs.
Minimum deposit and account models
If you open a trading account with a forex broker, you usually have to make an initial deposit of a specified minimum amount. This depends on the provider, but often also on the account type. The minimum deposit isn't required with some Canadian brokers, but it can also be extremely high, and thus provides information about which target group a broker would like to address with its offers.
Usually you can choose from different trading accounts or service levels with one and the same Canadian forex broker, with which the minimum deposit is graded. With a higher initial deposit, traders gain additional services such as expert analyzes, personalized training courses or access to information from providers such as Trading Central. In order to actually be able to trade currency pairs profitably, however, a certain share capital is required, which is between 500 and 1,000 CAD.
Underlyings
Most brokers offer other tradable underlyings in addition to forex pairs. This often includes international stocks trading, stock indices and funds, but also commodities of all kinds, including precious metals, agricultural commodities and oil or gas. Canadian traders can now also participate in the price development of cryptocurrencies via CFDs. Therefore, comparisons of the best stock brokers and commodity brokers are also part of the offer on forexcanada.ca.
Account Types
Each brokerage will have various account types, and there's a trend within the industry to possess fewer account types available than in years past. The first distinction between account types is between the Live accounts, Demo accounts, and Swap-free accounts. Managed accounts are available, but rare.
Live Accounts
These accounts use real money, and everything that you simply neutralize this sort of account will affect your profit or loss.
Demo Accounts
These are accounts loaded with virtual money and don't expose a trader to any risk. Demo accounts allow traders to check the trading platform, customer service, research area, and trading conditions before committing real money. Most demo accounts are time-limited but are easy to reactivate. These are the simplest demo accounts.
Managed Accounts
Select brokers will operate a managed account for you, but it's rare. There are independent money managers who can manage your account while they're trading for themselves. It's vital that you simply read our article on managed accounts and understand the minimum deposit requirements and extra risks involved when trading CFDs.
Further classification of accounts
There are different types of accounts in the Forex market aside from the ones mentioned above. We are going to focus on these other types of accounts in this section. The types of accounts in this section depend on the size of the accounts. Continue reading to find out more.
Swap-Free (Islamic) Accounts
Islamic accounts, or swap-free accounts, are an optional trading account type that allows Forex traders to be compliant with the principles of shariah. In shariah, interest on loans is prohibited, so swap-free accounts don't earn overnight interest in open positions.
In this type of account, the trader will not pay swap if his trade extends to the next day. This is because payment of swap is the same thing as payment of interest. Interest payment does not agree with the tenets of Islam.
This swap-free account is available to Muslims that want to observe the dictates of their religion while trading Forex. Instead of the variable interest charge, the trader using the Islamic account will pay a fixed charge. This fee will only come up if the trade opens overnight. There are also times that the swap-free account holder will not pay for overnight trade at all.
VIP accounts
You will find VIP accounts on the platform of many brokers. This type of account is for traders that trade with a very large deposit. The broker will give such traders the best trading conditions. For one, trade execution will be very fast. The VIP account holder will also enjoy a very tight spread.
The spread can be as low as zero. This means the account holder may end up paying no spread at all. Additionally, a VIP account holder can enjoy dedicated account management. This means that such a trader can enjoy a faster response to all his queries than what other categories of traders enjoy.
Standard accounts
Traders holding this type of account can access a minimum of one standard lot size. This is the same as 100,000 units of the base currency.1 pip of a Forex pair with its base on the U.S dollars is the same as $10. This means that 1 standard lot size equates to $10. If you are trading USD/CAD for example and the trade moves by 100 pips, that translates to $1000. This is the case if you are using 1 standard lot. Just multiply the number of pips by $10 to get the amount in USD.
Mini accounts
Mini account holders can place trades with a minimum of one mini lot size. So, a mini lot stands for one-tenth of a standard lot. This means that a mini lot is a tenth fraction of a standard lot. It also translates to 10,000 units of a base currency. In a mini account, 1 pip is equal to $1. If the price of a currency pair moves by 50 pips in a mini account, this translates to $50.
Micro accounts
One other type of account is the micro account. In this type of account, the lot is called a micro lot. A micro lot is the same as 1,000 units of a base currency. It also translates to one-hundredth of the side of a standard lot. This means that 1 pip is the same as $0.10 when you use a micro lot. If the price of the asset moves by say 100 pips in a micro account, it will translate to just $10 in currency value.
Cent account
In this type of account, the balance is in cents and not in US dollars. Cent accounts and any other trading account are handled the same way. The only difference is the nominal amount. If you are a beginner in the Canadian Forex, this type of account will surely work for you. This is because the money you have to risk is not much.
Some even think that a cent account is a midpoint between a demo account and a dollar account. The value of the lot in a cent account is 0.0001 of a standard lot. One other benefit of a cent account is that there is no minimum or maximum deposit. You can deposit virtually any amount. The requirements for opening a cent account are usually not as strict as what obtains in several other account types.
While a cent account may have several benefits, it also has some limitations. For example, the spread can be high and this is to compensate the broker. Some brokers also limit the position size in a cent account. The intention is to minim use usage.
The minimum deposit you need to open each of the account types differ. You need to check the minimum deposit for each account type on the broker before you make a deposit. Some brokers will automatically upgrade your account from micro to mini or standard if your account balance reaches what obtains for that new account type. Bear in mind that not all brokers offer these types of accounts. So, you should research well to know what types of accounts your preferred broker offers.
How to open forex trading account in Canada
First you have to open a fx trading account with one of the Canadian brokers, this is a difficult undertaking, especially for beginners. We have listed a good choice of forex official websites below to help you get started.

Get Started with forex trading in Canada

| | |
| --- | --- |
| | Comprehensive mobile offer |
| | Massive bonus offers |
| | No MT5 platform |

| | |
| --- | --- |
| | User-friendly app |
| | 100% Canadian |

| | |
| --- | --- |
| | Simple trading app |
| | Short sign-in form |
| | No bonus offers |
Every broker offers an extra area on their website where the online forex account can be registered. The registration procedure can vary from broker to broker, but is essentially based on the following basic steps:
Enter the broker's website and fill out the online application form.
You will receive email about identification. Please follow the identity verification instructions in the email.
Deposit funds into your trading account.
Download the broker's trading platform.
Make your first trade.
Types of trade in Canada
In any type of trade you do, it is best to participate in forex online trading if you want to trade based on a strategy. In the past it has been shown time and again that acting out of the gut usually leads to total losses. Therefore, almost all experts in forex trading recommend choosing a suitable trading strategy first and only then acting on the basis of this strategy. There are numerous individual trading strategies that Canadians can use when trading online. Here are the types of trade to consider:
Trading News – this trade takes advantage of the acute volatility exhibited by currency pairs after the discharge of important economic or geopolitical news.
Day trading – this trade limits all transactions to one trading session. Day traders will enter and exit positions intranet but they close out all positions by the top of the trading session to avoid the additional risk involved in taking overnight positions.
Scalping – This high-volume trade involves taking advantage of very short-term market moves. Scalpers nimbly enter and exit the market to capture small profits a couple of pips at a time according to forexonlinebrokers.com.
Swing trading – The classic "buy low, sell high" trade, swing or momentum trading involves entering and exiting the market supported momentum technical indicators. Swing traders can, and sometimes do, take overnight positions.
The most traded currency pairs in Canada
There are many currencies that are traded daily in the forex market. Each currency is paired along with another to make a currency pair. Some currency pairs are traded more than others.
Major pairs – the currency pairs in which the pair contains the U.S. dollar and either the Euro, Yen or the British Pound are called major pairs. These are the most traded pairs in the Canadian forex markets. They are traded with a consistently high volume. The major currency pairs allow closing out positions at the desired prices at any time due to their trading volumes. For the same reason, erratic price swings tend to be the exception. With the higher volume, the market also becomes more sluggish.
Match Bonus – currencies that consist of the Euro, Yen and the UK Pound but not paired with the US Dollar are minor pairs. Major currency pairs have a bigger market share compared to minor pairs.
Exotic Pairs – the exotics (Exotic Currency Pairs) are made up of major currencies paired with the currencies of emerging economies. The exotic currencies are being traded more and more often by speculators.
The main currency pairs are usually ideal for trend following systems. Below are some of the most traded currency pairs in Canada:

| Major currency pairs | Minor currency pairs | Exotic currency pairs |
| --- | --- | --- |
| EUR/USD | EUR/GBP | USD/SGD |
| GBP/USD | GBP/AUD | USD/HKD |
| USD/JPY | CAD/JPY | EUR/TRY |
| USD/CHF | GBP/JPY | USD/SEK |
Below are the top currency trading brokers in Canada

How To Choose Best Trading websites
First of all, you need to be careful about choosing the right trading website. It is very important to use professional trading websites. A good trading site offer a convenient interface for the traders to invest in financial markets. There is a wide variety of different Canadian trading sites that specialize in foreign exchange trading. Therefore, it is important to choose a suitable website that offers the best services, conditions and commercial objects. When choosing a trading website, certain criteria should be checked in order to assess the quality. We have put together some information for you:
Check for Regulation
It is important to find out if the broker is regulated before registering there. The Forex market regulator in Canada is the Investment Industry Regulatory Organization of Canada (IIROC). You should not register with any problem that is not under the regulation of this body. If you do, you will have yourself to blame at the end of the day. This is because a broker not under regulation may end up stealing your funds. If your fund goes missing, it will be near impossible to get it back. So, make sure you consider regulation before you choose a foreign exchange dealer here in Canada. You can check for confirmation on the website of the regulatory body to know if the broker is truly regulated or not.
Check for available foreign exchange platforms
Trading platforms differ from one broker to another. The number of trading platforms that a broker supports differs from what you can find on another broker. Virtually all brokers support MetaTrader 4 (MT4) trading platform. Many brokers are now providing MetaTrader 5 (MT5) trading platforms for their customers. You can also find many brokers offering proprietary trading platforms. A proprietary trading platform is one that is specially developed by the broker for its clients. Bear in mind that the trading conditions differ from one platform to another. For example, the spread on the proprietary trading platform can be lower than what you get on MT4 or MT5 for that particular broker. Brokers use this to attract their customers to use their proprietary trading platforms.

Top foreign exchange platforms in Canada

| Platform | Brief Description |
| --- | --- |
| MT4 | A popular online trading platform which can be used to automate your trading. |
| MT5 | MT5 offers a few more order types compared to MT4, including Stop Limit Buy and Stop Limit Sell. |
| TradingView | Prevides the real-time data and browser-based charts. |
| eSignal | The best platform for technical and chart analysis. |
| MetaStock | An award-winning market data platform and charting software. |
Additionally, you need to check if that trading platform is user-friendly or not. If you are a beginner in Forex trading Canada, you should go for a broker that offers a user-friendly platform. This way, you will be able to navigate such a platform easily. Such foreign exchange platforms will also make placing trades a lot easier for you.
Check for educational tools
The educational tools available on trading platforms depend on the brokers. So, go for a broker that offers a lot of educational tools on its trading platform. A good fx market broker will offer many educational tools. These tools will help the trader to learn more about Forex trading. The tools will also help the trader to make informed trading decisions. When you want to venture into online trading as a beginner, you need such a broker for help. A broker that provides many educational tools is the right one for new traders. You can use the educational tools to form a background on Forex trading. A good fx company should offer an economic calendar to its customers. The broker should also provide basic education about the foreign exchange market. This way, the new trader can learn from the basics on the broker's platform.
Additionally, the broker should provide a series of technical analysis tools. The number of tools for technical analysis differs from one broker to another. You should pitch your tent with a broker that offers so many of them. Also, check if the broker offers charting tools before you register there to trade Forex. All these tools are very important considerations when looking for brokers reliable for Forex trading for beginners.
Consider execution speed
One other important factor to consider when choosing a safe forex broker in Canada is the execution speed of the broker. A good broker will execute your order as fast as possible. A good broker will not take more than a couple of seconds to execute the trade. If the execution speed is slow on that broker, then you should avoid such a broker. A slow execution speed can cost you a lot of money. If you are a scalper, for example, you need a broker that provides fast execution. With such a broker, there is an assurance that you will get the best price possible on each trade. The execution speed is very important during high volatility periods in the Forex market.
Consider customer support
This is about the best and the first thing you should consider when choosing a forex company for currency trading in Canada. If customer support is poor, you should never register with such a broker. It does not matter if the broker offers all the best trading tools in the world. It also does not matter if the trading platform looks attractive. None of these things is as important as top-quality customer service.
Check the contact methods available first before you register with that broker. Can you get in touch with them via email? Is it possible to contact them via phone call? You can even communicate with some brokers via live chat and their social media platforms. Aside from that, find out how long it takes them to respond to your messages. You can get a better picture of this by reading Forex reviews about the brokers. Make sure you read the Forex reviews from neutral sources. The reviews can give you an idea of what to expect from the brokers.
Advantages of trading with a Canadian broker
Every Forex trader is free to choose any broker of his choice. Registering with a forex company domiciled in Canada will give you an incomparable level of security as a client. It will also ensure complete protection for the fund you have deposited to the account of the broker. The Canadian Investor Protection Fund (CIPF) is one of the many regulatory bodies for the Forex market in Canada. The company gives Forex traders a guarantee of $1 million in the form of compensation.
If an exchange broker fails, the customers of that fx exchange broker will never lose their funds, thanks to CIPF. There is, therefore, a consistent cover for the funds of the customers at all times. The security of funds is one of the major factors that bother many Forex customers across the globe today. This is because there is a possibility of the Canadian forex company going bankrupt due to unexpected volatility in the Forex market. Modern Forex market regulators are always wary of eventualities in the Forex market and they always consider this when they are developing their regulatory guidelines. This will help to prevent situations of insolvency of the broker. However, there is no single broker that can be said to be immune to bankruptcy or liquidation, which is why organizations like CIPF are very important.
As a result of this, the Forex trader needs to register with a Canadian fx exchange company, especially if the trader plans to start Forex trading with a large sum of money. This gives an assurance that the Forex trader can be compensated for his lost fund if the forex trading company goes bankrupt.
Ease of trading
Access as a Forex trader to a compensation of up to $1 million will give you more adaptability and freedom when trading Forex. It will give you the ability to get more profit without being bothered by the thoughts of losing your fund. You will never get worried about the fx trading company closing its business and leaving you hanging. The regulation of brokers and protection of funds of traders in Canada are even better than what obtains in the UK. In the UK, for example, brokers that lose their funds to liquidated brokers can only access a paltry £50,000 as compensation. This means that the compensation made available by the CIPF is at a very special level entirely.
Trading rules in Canada vs. the United States
Forex brokers in Canada have a different set of trading rules compared to their American counterparts. For example, forex exchange brokers in the United States need to evolve to CFTC and NFA guidelines like the FIFO rule. They do not allow hedging and they can only offer a maximum leverage of 1:50. This makes the rules in the United States among foreign exchange trading companies to be restrictive, which has an impact on the Forex traders in that country.
Power of regulatory agencies
The regulatory authorities in the United States play the role of policymakers towards stopping their citizens from losing money. The United States, however, put in place certain regulatory changes for reducing risk. Some of the regulations are completely against the freedom of the retail trading markets. Be that as it may, the United States has put some regulatory changes in place towards reducing the risk associated with Forex trading in the country.
On the other hand, exchange rate companies in Canada do not enforce any restrictions on trading.
Be that as it may, the regulatory agencies in the country may bring about some changes in their policies from time to time. This ensures a considerable reduction in the fraudulent financial practices among fx exchange brokers in the country.
Each regulatory agency in Canada has a different responsibility in terms of regulating forex brokers for Albertans and other Canadian provinces. Below are some of the main regulatory agencies responsible for enforcing Canadian Forex regulation:
International Brokers for Canadians
Canada has shown leniency towards receiving and sending money to and from international brokers and the Forex traders. The fx trading companies in the country adhere to all the anti-money laundering laws existing in the country. It is illegal to send money via any means to a forex trading company outside the shores of the United States and some other countries.
Additionally, the United States enforces very strict regulations on all international payments, especially because of the threats to national security. Because of this, citizens of the US have limited freedom when transferring funds from one place to another. Such restrictions are absent in Canada. As a result, Forex traders in Canada have the freedom to move capitals intended for Forex trading to any broker, both local and international. However, both the trader and the broker must keep an accurate record and statement of every transaction for future verification.
The laws existing in Canada state that brokers can operate in the country without obtaining any regulatory license. Be that as it may, a broker will enjoy several benefits if it gets regulated and holds the regulatory license in Canada. The limited regulation of the Forex market in Canada exposes the traders to risks, especially if the broker fails.
First Regulatory agency in Canada
You can trade Forex in Canada with any of the exchange brokers that are not regulated in the country. This is because the law of the country is lenient on these exchange brokers. Bear in mind that an exchange broker doesn't need to bear a legitimate Canadian regulatory license before it can operate successfully in the country. This has made the companies more competitive and forced many of them to be up and doing towards satisfying their clients.
Be that as it may, a foreign forex broker can only operate in Canada if Canada has a bilateral relationship with the country in which the fx trading company is domiciled. This helps to keep scam practices and monetary fraud in check. To further reduce the risk of fraud, a Canadian Forex trader should register with a broker located in Canada.
Conclusion
The forex brokers Canada comparison from ForexCanada makes it easier for you to choose the right broker for all areas. Make use of our reviews and the experience of other traders to successfully start in trading.
A good, reputable and best forex broker in Canada should have the following advantages:
Low minimum deposit
Leverage in accordance with the Canadian binding guidelines
Intuitive trading platform with powerful chart tools
Free, preferably open-ended demo account
Forex Trading Canada FAQs
How to trade forex in Canada?
You trade forex through a Canadian forex broker or sometimes through a bank. Then you speculate on price movements of currency pairs without owning the currencies themselves. If you think the price of a currency pair is trending down, you can go short instead of long.
Is forex trading legal in Canada?
Yes, the trade regulation law regulates forex trading and does not prohibit it. This means trading online is legal. However, there are some restrictions to which broker to trade with. Canadians are allowed to trade with brokers licensed with the IIROC (Investment Industry Regulatory Organization of Canada).
For further information about this topic, including regulations, see here.
What is forex trading and how does it work?
Forex ( FX ) stands for Foreign Exchange. When trading with Forex, two currencies are traded against each other: Buying one currency results in the simultaneous sale of another. Currencies are always traded in pairs, which is why one also speaks of currency trading or currency pairs.
Can I trade on my mobile phone?
Of course! Forex trading apps are designed with mobile experiences in mind. The method is easy, safe and fast – tailored to your needs. Choose from our best mobile trading apps and trade stocks, Forex and CFDs from your smartphone or tablet whenever and wherever you want.
How risky is forex trading?
There are high risks inherent in forex trading. Canadian FX traders should rather distance themselves from the idea of hoping for big profits on the FX market without even much deeper knowledge.
Are trading sites in Canada safe?
Yes, if you do a bit of research. Our experts at ForexCanada ensures that all the forex websites we recommend are safe. Before you open an account at any website remember to check the broker's regulation. Without regulation, the brokers can conduct their trades at their own discretion, so there is a very high risk for client funds.
Are there Canadian forex brokers with no fees?
The market makers only charge their traders the spread. Some waive fees for deposits and withdrawals and even waive minimum deposits.
Can I trade forex with $1?
Yes, it is possible to do a 1 Dollar Forex trading in Canada.
What is a spread?
The spread is the difference between the bid and ask rates in a two-way currency rate. The spread is usually measured in points. For example, if the EUR/USD rate is 1.5000 to 1.5008, the spread is 8 pips or $ 0.0008.
What time does the forex market open?
In general, traders can trade from Sunday evening to Friday night. The forex market is open 24 hours a day from 17:00 EST on Sunday until 16:00 EST on Friday.
What is a lot?
A lot is the trading unit in forex trading and represents the contract size. 1 standard lot corresponds to 100,000 of the base currency whereas a micro lot has 1,000 units.
What is leverage?
Leverage trading is a technique that enables traders to "borrow" capital in order to trade a larger volume in a particular market with a relatively small deposit. It offers traders the opportunity to multiply potential profits as well as the losses.
What is a margin?
Margin is a deposit in good faith that a trader places as collateral for opening a trade. The margin simply ensures that your account has enough capital to trade.